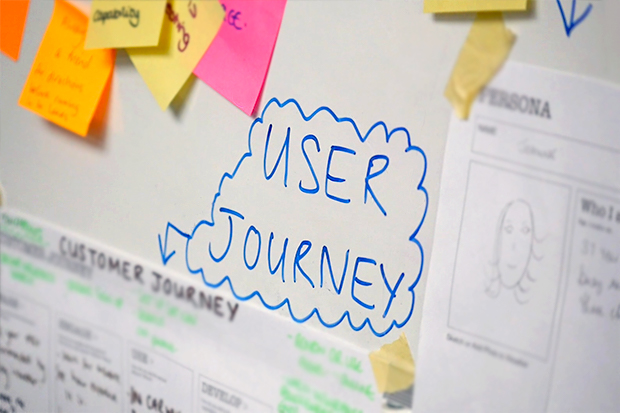 I have worked on many different digital projects as a user researcher over the years, helping to develop services used by both citizens and DWP colleagues.
The one thing they have in common is that digital services are merely a slice of a much wider end-to-end user experience.
The user doesn't differentiate between the digital and non-digital parts of the service. For them it's one service which begins before they step into the digital service and finishes after they step out of it.
It's therefore vital that at every stage of the lifecycle we research in the context of the wider service.
In discovery user research surfaces many problems which are prioritised based on user need and the impact the solution will deliver.
In my previous blog I describe a framework we can use in discovery that helps us identify, define and understand problems.
This blogpost builds on that by looking at the next stages (both alpha and beta) where we build, test and iterate solutions.
The non-digital parts of the journey are important too
When you're building and testing a shiny new digital service, it's all too easy to concentrate on that service and forget the other parts of the journey that the user experiences.
But problems in the non-digital parts of the journey must not be ignored otherwise we risk implementing something that only addresses problems in one area. It could potentially make something worse elsewhere in the journey.
It's like putting a shiny new coat of paint on a car whose engine doesn't work properly. It may look good but it probably won't get you from A to B.
So how do we make sure we look under the bonnet, identify problems with the engine and fix them?
My 3 tips for focusing on the end-to-end journey
1. Define the user's goal
What do they want to achieve when they engage with the service? How they achieve their goal is important (for example, using a great digital application process) but making sure they achieve their goal is vital.
I'm currently working on a new digital service that will help landlords to apply for rent and rent arrears to be paid directly to them from their tenant's Universal Credit claim. The service is called Apply for Direct Rent Payments.
The landlord's goal when using this service is quite simple: "to get my rent and rent arrears paid to me as soon as possible."
2. Test the digital service in the context of the full end-to-end service
You need to see whether the goal has been met and if not, to understand why. Diary studies and customer journey mapping are great methodologies to consider measuring this.
If the rest of the end-to-end service offers a poor user experience, it doesn't matter how fantastic the digital service even if the user meets their goal.
Often the introduction of a digital service will have a ripple effect on problems that exist elsewhere in the non-digital journey. However, some problems will persist regardless of what you introduce digitally and you need to define and understand them because they have an impact on the user's experience.
The discovery phase of Apply for Direct Rent Payment highlighted two problem areas. One related to the application process and the other was communications to landlords through the journey.
Although we developed a solution aimed at addressing problems with the application we tested the full end-to-end journey in Private Beta to learn whether the service had a positive impact on communications elsewhere in the user journey.
What we learnt was communications continued to be poor and left some landlords annoyed and frustrated as they were spending time and effort chasing existing requests and sending duplicate ones. The risk of ignoring this is that landlords may choose to rent to tenants not on universal credit because of their experience with this service.
3. Share your findings widely
Introducing a fantastic digital service that offers a great user experience in isolation is of little benefit if it uncovers issues elsewhere in the non-digital part of the journey which affect the user goal.
Building strong relationships with stakeholders in strategy policy, operations and delivery is really important to prevent this. Working collaboratively, pooling expertise and sharing your research findings with them will help you identify, build and test non-digital solutions to problems identified in the full end-to-end service.
The Apply for Direct Rent Payment team are currently working with stakeholders to understand and define the problems and in turn, the user needs around communications. Once this is done we can then prioritise and implement a number of digital and non-digital solutions to address those problems together.
Working together to deliver better services
As an organisation DWP delivers 'services' which have both digital and non-digital elements. As a result, we need to better recognise that digital services are not a panacea and that not all solutions are digital.
Digital teams don't have the capability or resource to fix every problem that research identifies but by working smarter and collaboratively with operational colleagues we can all deliver better services for the user.
Like this blog? Why not subscribe for more blogs like this? Sign up for email updates whenever new content is posted!