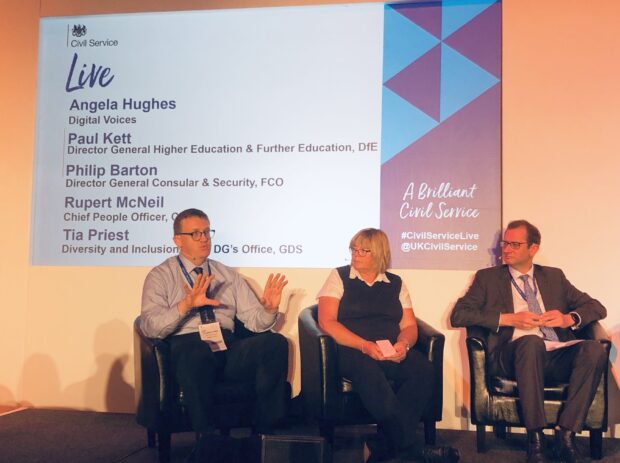 My nervousness changed to excitement last Tuesday as I got ready to represent the Digital Voices programme at Civil Service Live, Edinburgh. I was taking part in a plenary panel 'Working with robots – developing human value in a digital world'.
I'm one of 14 women taking part in a Digital Voices programme that gives women in DWP Digital the opportunity to develop digital skills, grow their confidence and support networks and learn from other inspiring women.
Civil Service Live is a series of events that take place across the UK each year, designed to share best practice, promote innovation and drive collaboration across all government departments and agencies.
Joining the event
On my way to the train station I decided I would send my first tweet of the day to promote the event and the Digital Voices. I was really happy to get lots of positive messages of support from my fellow voices and colleagues.
I had a quick read of my notes on the train and before I knew it I was in Edinburgh. I was greeted by Rita, one of the many volunteers who make these events possible. Rita is based in the same office as me so it was nice to see a friendly face.
Before my own session I had time to take part in some of the other sessions taking place and to meet up with colleagues from the Digital Voices programme.
I went along to the Government Digital Services team session, 'We are GDS'. It was great to see how government departments are getting together to make our digital services so much better and more user friendly. I also went along to the session being delivered by our Digital User Support Services. It was inspiring hearing how far we've come as an organisation and how we're delivering a greatly improved service to our customers where we focus on their needs.
I met up with Angelina who was on the Digital Voices programme last year, Joanne, the programme lead and Jane, one of the many senior supporters and Digital Voices 'friends'. Joanne and Jane gave me some pre session advice, and I can't thank them enough for all the positive and kind words they gave me.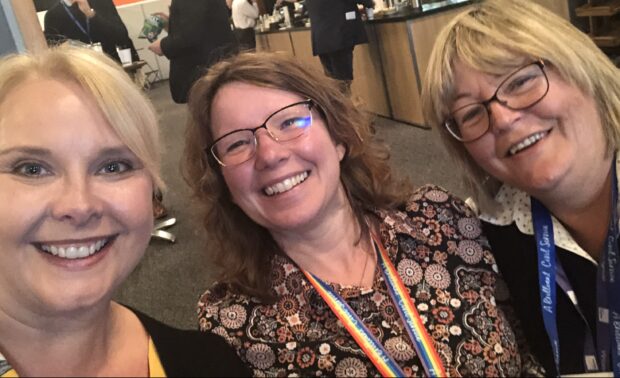 My session
So onto the main event - my session was taking place in the Lennox suite and when the doors opened I was in awe of the size the place. It was massive!
I was on the panel with Tia Priest, Diversity and Inclusion lead for GDS, Phillip Barton, Director General, Consular and Security at the Foreign and Commonwealth Office, Rupert McNeil, Government Chief People Officer and Paul Kett, Director General at the Department for Education. Some really big names in government!
The project lead for the event gave us a quick brief on how the session would go and this helped to vanish any remaining nerves.
Phillip was the host and was amazing at putting us all at ease. I was asked about my role and how Artificial Intelligence (AI) had enhanced it, my reply covered how AI has given me more time to spend with my customers. I was also asked about the Digital Voices programme and its aims. I was able to speak about the gender imbalance in technology roles and how Digital Voices is trying to address this. I also talked about how Digital Voices has given me more confidence and improved my skills.
The questions from the audience were interesting, and kept me on my toes as I didn't know what I would be asked, and before I knew it we'd run out of time and the session was over.
I was really pleased when the other panel members came over and thanked me for my input. I looked over to Joanne and Jane and they were giving me massive thumbs up. My phone was beeping like crazy in my pocket with Twitter notifications that were all positive and supportive. I can honestly say I was buzzing! It was an absolute joy and I'm very privileged to be have been able to represent Digital Voices at Civil Service Live.
Find out more
You can find out more about working in DWP Digital by visiting our careers site.  Keep up to date by following us on Twitter @DWPDigital and @DWPDigital Jobs.