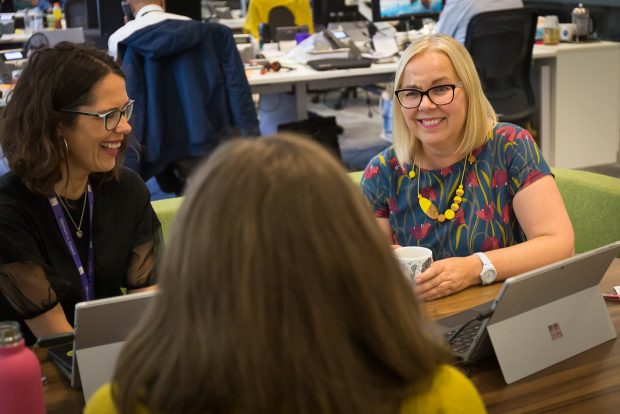 I find networking difficult. I'm reserved around people I don't know that well, which makes me reluctant to join in. Once I get to know somebody I'm okay and I can relax and be myself without worrying that I'm going to do or say the 'wrong thing'.
When I come across networking opportunities that look right up my street, my natural instinct is to think of all the reasons why it's better for me not to go along! I convince myself "I'll be on my own when others have gone as a team", "I won't have anything to add", or, "the usual people who do all the talking will be there, so why should I bother?"
Despite this, I love the power of communities and networking. I find it really rewarding.
As a business analyst in the Find a job team, my role involves working with a wide range of stakeholders to find solutions to some of the UK's biggest digital challenges. So I know how important it is to collaborate on projects and understand people's perspective to build the right thing.
Every time I meet new people I know I'm going to learn something new, broaden my thinking further and make strong connections with people outside my existing network. So when my manager suggested that I get involved with the OneTeamGov breakfast club, I went along.
The power of OneTeamGov
OneTeamGov have been running a mixture of events from large scale conferences to small events with just a handful of people. I went along to a OneTeamGov breakfast club in Leeds hosted by Lisa Jeffrey.
Lisa and the other attendees were so welcoming that I felt comfortable in talking through my experiences in DWP Digital.  I met a number of people who wanted to connect with me and even follow me @Tracey2106 on Twitter. I found the event so successful, I offered to host the next breakfast club at our Leeds hub.
It was a great opportunity to network with people from across government and I've made new professional relationships, for example I'm discussing ways to share user findings with a colleague from Leeds City Council that we're hoping will feed into the Find a job service. It's really emphasised to me the importance of sharing and reusing what we know with others to enable more joined up services.
Sprinting forward
With my new found confidence I found a Sprint 19 event on the OneTeamGov website. Sprint 19 was a way for people working across government to get together and learn more about how digital transformation is improving people's lives.
I went along and while I did exchange a quick nod hello to a few people I know, I was largely on my own in the morning.  However, it didn't matter as the speakers and workshops were so interesting that it flew by. In the afternoon there was the opportunity to network, I found that I had a lot in common with other delegates.
Wellbeing
This encouraged me to attend the much larger OneTeamGov Wellbeing Camp.
I'm one of DWP's many Mental Health First Aiders - a point of contact for any colleague experiencing a mental health issue or emotional distress – and this felt like the perfect opportunity to find out what more I and DWP Digital can do, to look after each other.
There were lots of workshops running from meditation and mindfulness, to a laughter academy. My take away from the event was that people need to make good and meaningful connections to improve a sense of value in what they do. Another brilliant reason for me to move out of my comfort zone and attend more networking events!
I've continued going along to the OneTeamGov breakfast events and I'm now working on an event with my colleague Susie, focused on Wellbeing in the Workplace. We both have a real passion to help people feel included in changes happening around them, and to help people feel empowered to lead on it so that they feel they are making a difference. We'll also be sharing simple and practical steps to improve people's mental health.  For more details keep checking the OneTeamGov events page for updates. I hope I'll see you there!
What I've learnt about networking
Mindful techniques can really help to make you feel less anxious about doing things you're not naturally not comfortable with. For example, one technique is to think about times when you've made a positive connection with someone; it reassures you that you can do it again.
By thinking about what I'm good at, what I have to share, and by being honest with others about my nerves I hope that my authenticity shines through, and this helps to break the ice. I've found that more people feel like me, than people who don't!
By pushing myself to do something that doesn't come easy I've gained more confidence in myself and my abilities, learned lots of new skills, and built new professional relationships. And I've learned that although meeting new people isn't easy at first, it does get easier!
I'm glad I took that first step and hope that this encourages any natural introverts out there reading this to do the same.
We're recruiting in our product design community. There's never been a more exciting time to join us, so visit our Careers website to view the latest vacancies.