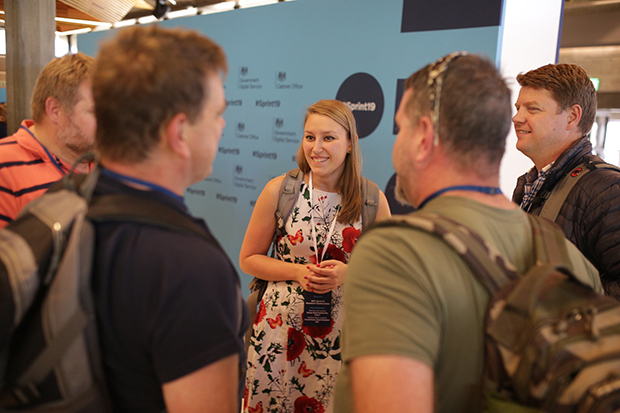 I'm a data scientist in our Newcastle hub working on the Examine a Place service. It's a service that aims to give partners access to a snapshot of skills and roles and a view of employer demand for areas across the country.
Earlier this year the service was featured as a case study in the Government Technology Innovation Strategy. As a result, the Government Digital Service (GDS) asked if we'd do an eight-minute 'lightning talk' about it at the flagship cross-government transformation event, Sprint 19, in London on 19 September.
Getting ready for my talk
This was a high profile chance for us to share our progress with nearly 800 people from across different government departments.
I've done talks at other events before and done a live webinar, but Sprint 19 was the largest live audience I have spoken in front of, so it was a little bit daunting.
When I arrived at the Southbank Centre, I was taken backstage and given some space and time to do some final preparations. I met with John Manzoni, permanent secretary of the Cabinet Office, who was very interested to hear more about Examine a Place.
Then it was my turn to go on stage.
Talking about Examine a Place
Although I was a bit nervous, there were people I knew in the audience, and I'm confident talking about Examine a Place because I've been involved from the start.
I decided to give a live demo to provide some background to the service, as well as the collaboration with local enterprise partnerships, Department for Education (DfE) and Department for Culture Media and Sport (DCMS).
I showed how we made a complex algorithm featuring 6,000 different skills appear simple to the user. I talked about how we iterated the service with users to find out their needs, how we included geo-economic data to give wider context, and why we used GOV.UK style. Finally, I discussed how our graphs and visuals developed through this research.
The important thing I wanted to get across was how we looked at the data overlap with user research, and the place-based approach to tailor it to the local area.
Sharing useful feedback
There was a huge clock in front of the podium ticking down to the end of my talk, but my time on stage went by quickly.
Afterwards, I received some really positive feedback. Attendees approached me with collaboration ideas, suggesting additional data sources and other uses of the service. I've had emails from people wanting to find out more and work together since the event too.
Later on in the day, I enjoyed spending time and making connections in the breakout sessions – particularly the ones of personal interest to me on diversity and inclusion and the Digital, Data and Design profession in government. The panel session was excellent too, and it was refreshing to see an all-female panel.
Reflecting on Sprint 19
Sprint 19 was a great experience. The atmosphere was buzzing and attendees were eager to exchange ideas and collaborate. There were lots of excellent examples of digital products across government and opportunities to learn more.
Another advantage of the day was hearing feedback on the team's work. You don't always see the impact of what you've been part of until people tell you – it's encouraging to hear.
Sprint 19 made me feel proud to be working in digital for government.
Like this blog? Why not subscribe for more blogs like this? Sign up for email updates whenever new content is posted!