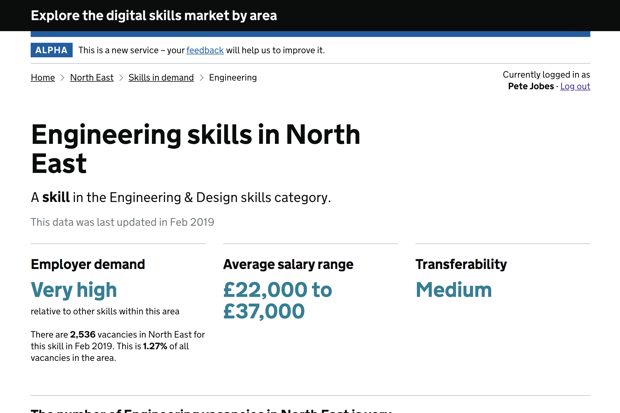 As an interaction designer, it's my job to design services in a way that is accessible and meets real user needs. I work in DWP to bring user-centred design into the way we use and communicate data.
Data is not new. Governments have collected and published it for centuries. The process of doing so has often been more about what government has to do than what the user needs to do, but we're changing that.
Getting started working with data in government
Our team has been building services for local government users who need labour market data. It's been the perfect opportunity to apply the principles of user-centred design.
We've focused on talking to users and looking at their day to day needs. Many described their struggles with data published in hard to use and inaccessible ways. It was clear that, if we could provide data in a way that they could use, we could really make a difference.
As one user memorably told us: "we need something user-friendly for those of us who weren't born with the gift of data analysis."
You can read more about our service in a blog written by our product owner.
Starting a conversation on data services
While doing this, we've found that we're often doing things that are new to government. We have great examples of transactional services, but data services are less common. That has been both daunting and exciting.
We don't have all of the answers, but we have learnt valuable lessons. It's important for us to learn from others facing similar challenges. We also want to share what we've learnt with the community across government.
We're starting conversations on best practice for designing with data. It's important that we make sure that when we use data in services we do so in a way that's aimed at humans, not machines.
Principles for user-centred data services
Central to this process have been the GDS Design Principles and the Digital Service Standard. Everything we do should fit within those. Designing with data doesn't and shouldn't exclude us from doing things right.
As a department we already have a useful training resource for data visualisation. We're now starting to use our learnings to inform an updated version of this.
We have identified things to add and areas that need to change and are writing new content. It's been helpful for us to start to write down principles for colleagues using this guide.
Some of these principles are directly taken from the GDS ones, others are specific to working with data.
Once we have a first iteration of our new guide we will be having broader conversations to gain feedback and iterate again. We're also starting to facilitate a cross-government working group to share knowledge and experience.
Our hope is that together we can start a resource that is useful across government and beyond. An important step on the journey to put users at the heart of data services.