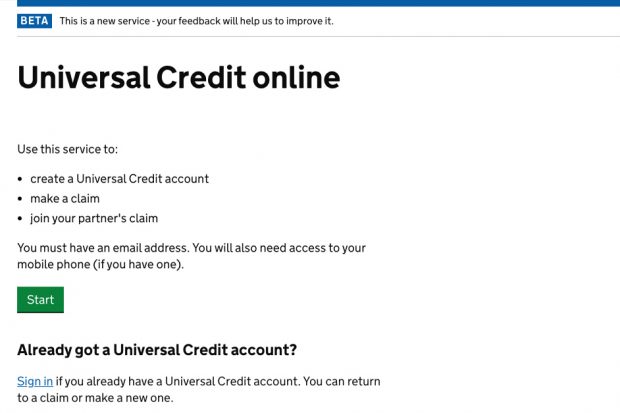 Universal Credit is a benefit to support people who are on a low income or out of work. You apply for it by creating an online account then making an online claim. To do this and to manage an ongoing claim, means interacting with a lot of content.
It's a challenging job to create and manage this content. Here's a brief overview of how we do it.
What do we mean by 'content'? 
Content in the Universal Credit service includes:
pages asking a claimant to give us information, such as name and address or evidence of childcare costs, either as part of the application process or when existing claimants need to inform us of a change in their circumstances
pages providing information to the claimant, such as the in-service 'Guide to Universal Credit' or notifications of decisions or appointments
content that's not actually on a web page, such as automated SMS and email messages
pages used by the thousands of agents (work coaches, case managers and decision makers) who look after claimants and manage their claims
How we work
The Universal Credit programme is made up of many teams, 13 of which need content design input.
Eight are based in London with one content designer in each. In Leeds we have one content designer working across 3 teams and in Manchester one working across 2 teams.
All these teams are multidisciplinary, meaning they each include a range of people: content designers, interaction designers, user researchers, developers, business analysts, quality analysts and more.
Each team is responsible for identifying issues and developing solutions in a particular area of Universal Credit. We call these areas 'themes'. And they include things like 'Pay the right amount, on time' and 'Help agents run the service effectively'.
Content designers work with everyone on the team, but most closely with the user researcher and interaction designer. On bigger pieces of work this trio of user-centred design practitioners will work together on spotting, defining and investigating problems as well as looking for opportunities for improvement.
They are all involved in user research and the initial development of solutions before sharing them with the rest of the team.
The point at which we start work on creating content varies from case to case. Sometimes we may need to create a new SMS message alerting claimants to a particular type of appointment and we might be able to write something suitable with just a bit of background information.
More often we will not be able to start creating content until we've invested more time in fully understanding the problem we're trying to solve.
For bigger pieces of work, the content designer will work hand-in-hand with an interaction designer to create a working prototype of a new feature or question flow. Both will then work with the user researcher to test this design with users, claimants or agents, before iterating based upon the results.
When the design is ready the whole team will review and test it before handing it to developers to build.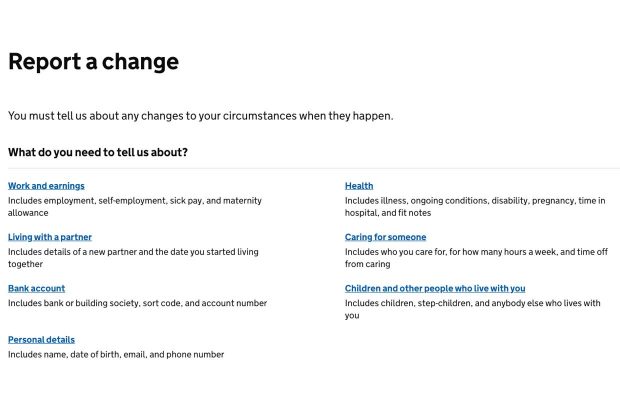 A day in the life of a content designer
At Universal Credit we often refer to 'the content team'. But in fact we're more of a community of practice than a team. We don't sit together, for example, we sit in our multidisciplinary theme teams.
The most important part of my role as lead content designer is to make sure this community has the support it needs so that everyone can do their best work as the sole content designer in a theme team.
Each morning we come together to tell the rest of the group what we worked on yesterday and what we're planning to do today. On Tuesday mornings we extend this session to review all the work currently in progress.
We discuss anything that's blocking us and look at the jobs we completed in the preceding week. And on Tuesday afternoons we have an hour-long meeting to share and discuss our work in more detail, which can include 'content crits'and 'show and tells'.
These meetings are important because:
they help us to spot areas of overlap or duplication
they are an opportunity to ask for help and advice
through daily and weekly repetition, they help us each to build a picture of what's going on across this huge and complicated service
Most of the day is spent in our theme teams. This could involve attending user research sessions, meeting policy specialists or learning about new business processes. Some days we might not actually create any new content and often our job is to diplomatically block requests for unnecessary content to be added to the service.
Even when we're in our separate teams, we're supporting each other. We use an application called Slack to communicate with each other through the day. We can ask one another or anyone in the wider DWP and government content community, for help with tricky questions whether about content design, operational procedures or government policy.
Content projects
On top of our core theme work, we all spend time working on special projects.
Some of these are content work that doesn't relate to one particular theme. For example, we're updating the in-service 'Guide to Universal Credit' based on user feedback.
Others are about improving the way we work, 'content operations'. We don't have a content management system, so we're currently designing methods (workflow, version control and so on) to bring more structure and consistency to how we all create, share and store content as we're working on it.
All in all, we're a busy bunch. There's a lot to do, but it's exciting to have the opportunity to continually improve such a large and important service.