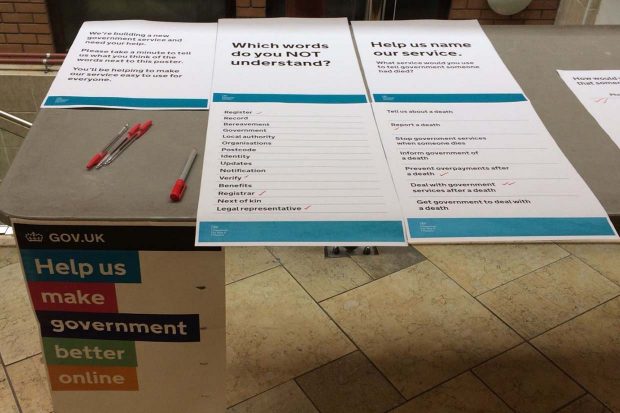 I'm a content designer for DWP based in Newcastle. I've been working with dedicated, compassionate teams to design services that help the people left behind after the loss of someone close.
We've done lots of research with bereaved people. This has helped us to understand what sort of information people need during what could be the hardest moments of their lives. As a content designer, it's my job to figure out how best to give that information.
I've spent the last couple of years thinking about the words we use when we talk about death. Here's what I've learnt and how it's shaping the content we design.
We need to use clear and sensitive language
Death is something everyone will need to think about, but that doesn't mean everyone is ready to do so when it happens. It's tempting to use words that will soften the pain, to avoid the words that might hurt the most. I've done it myself, in the first paragraph of this blog.
I said 'after the loss of someone close'. I thought it a kinder way of saying 'when someone dies'. Yet some people could easily misunderstand this: 'loss' is less direct than 'dies'.
We found that while some people felt uncomfortable seeing words like 'died' or 'funeral', more people needed us to be upfront with our language. When grief overwhelms, thinking about day-to-day tasks becomes very difficult.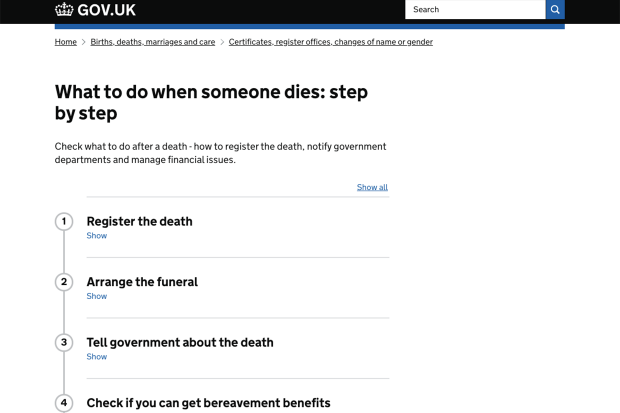 Lots of people had very little idea of what needed to be done in the days after a death. Do you find a funeral director first or sort out the will? Cancel bank accounts and benefits or deal with the estate?
When someone has to deal with the government after a death, they often have to understand new terms like 'deal with the estate', 'next of kin' and even 'government'. They have to define things they might not have thought about, like their 'relationship to the deceased' and 'dependent children'.
There's no room for doubt or misunderstanding. That means the words we use must get straight to the point. By trying to be kind, we often use more words when we should be helping people to understand what they need to do as quickly and simply as possible.
We need to give just enough detail
People need to know what information they'll be asked for before using a service. We found they also need to know exactly what will happen as a result of using a service, so they can keep track of what they need to do without having to chase for updates. But we need to spell things out clearly and carefully. If we give too much detail, then we risk it turning into background noise.
We know that lots of people coping with a death will ask a close friend or family member to take care of some things. Helpers need time to gather information so that they can do what they need to. If they get part-way through applying for something only to have to pause to find a letter, chances are they'll get tied up doing something else.
We need to help people understand what they need to do by:
only telling them what they need to know, when they need to know it – for example, what happens after applying for Bereavement Support Payment
explaining why we need to ask certain questions
breaking information into easily manageable chunks
We need to be consistent in how we talk about death
If we're using different words to say the same thing, we risk confusing people. So, we've added an entry on death to our style guide to make sure we're being consistent:
death

Be direct wherever possible. Say "death" instead of "loss" and "died" instead of "passed away".
Research shows that people dealing with a death appreciate clear, succinct communication at what is often a confusing and stressful time. Euphemisms are harder for people to understand, especially for those who do not speak English as a first language.
Use
Do not use
death

loss
bereavement (unless you are talking specifically about Bereavement Support Payment)
fatality
passing

died
Research shows that brief, plain language is more helpful than content added to make something sound more sympathetic. People would rather quickly understand what they need to do than read through lengthy condolences.
Do not assume all people are grieving; some may not be. If research shows some users would find sympathetic content helpful, be careful not to suggest how they should be feeling in your writing. They might not be experiencing a sense of loss and it might not be a difficult time for them.
Avoid
Please accept our sympathies for your loss.

We are sorry to contact you at this difficult time.
When we were doing our research, one person told us: "When you're grieving, everything shuts down." It's a common theme, and why we try to understand what our users are going through. It's always important to give people only what they need to know, not what we want them to know – even more so when they're dealing with a death.