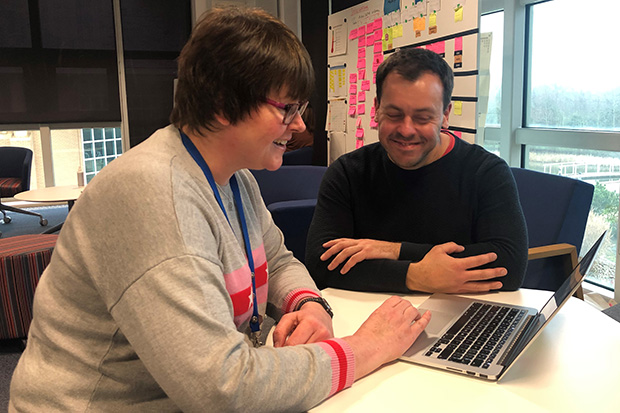 As a business analyst (BA), my role in a digital team is to understand business needs and requirements, analysing and assessing the business impact of changes.
I'm always asking 'why' in order to get to the root of a business problem or issue.
But I've found that asking 'how' helps me to find the answers to 'why'.
How does giving users simple, clear information help them navigate their way through a digital service quicker and easier? And how does this then help me as a BA analyse the impact of the service?
The key to this is content design. I first came across the role of a content designer 6 years ago when I worked as a business analyst on the Carers Allowance digital service.
Since then I've worked more and more closely with content designers and the wider service design community. Here's what I've learnt.
1. Good service design is not done in isolation
BAs don't work in isolation, we are often seen as the 'glue' in a team working across all disciplines and roles. So having that wider understanding and appreciation of the other elements of the service design process means we can be more effective in delivering the right service and experience for our users.
In the past 6 years, I've actively sought opportunities to spend time with user-centred design team members. Most recently I worked closely with a content designer on the research and design of a new feature.
I spoke with content designers and got involved in the community, taking part in meet-ups and content crits. I spent time with content designers seeing how they tackle problems and develop and iterate content based on user needs.
2. Words matter
We had a piece of content in the Carer's Allowance digital service based on a particularly complex piece of legislation. Research showed that users were struggling to understand the information and didn't know what they needed to do.
I worked closely with a content designer to try and find a solution.
He took that complex piece of content and stripped it right back, simplifying the words without losing the meaning. Seeing how much easier this made it for users to understand what they needed to do took my breath away.
Words matter. How we present content and design on a page, as part of a service is important if we want our users to have the best experience they can. It's not just writing content, it's taking a user need and presenting it in the best way possible.
3. It's about the whole end-to-end journey
I've learnt the importance of looking at problems as part of an end to end service, using research and data to influence decisions about design and content.
Having spent time working closely with content teams, when I look at a problem as part of a business process, I'm now much more aware of the content across the end to end journey and how important this is to a service to meet user needs.
But on the flip side, having an in-depth knowledge of the business process and stakeholder allows BAs to bring a different perspective to content crits and meet ups. This helps to bridge the gap between business needs and user needs.
4. It makes us better business analysts
Through working with content designers and reading practical blogposts we've learnt how to do things like write better problem statements.
I've spent time with new colleagues showing them how changes to content have improved the user experience using feedback from GOV.UK.
We're also regularly exposed to user research and how that affects the next iteration of content. This means my team is now fully aware of the value a content designer can bring at each stage of the agile process. We have a better understanding of who the service is for and the problems we are trying to solve. 
5. Just do it
Being proactive and asking to spend time getting an understanding of other business areas wasn't easy. But to anyone thinking of doing the same, I'd say just do it.
My experience with the DWP content design community has been one of my highlights of the last 12 months.
They are such a brilliant, talented and supportive team whose passion and commitment for doing the right thing for users is clear to see.
So go and find your user-centred design folk and make friends with them.
They will collaborate with you and take you on a journey. The end result will be worth it: better services for users.