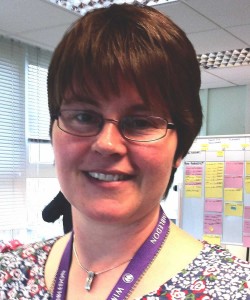 I have been involved in the development of the new Carer's Allowance Digital Service since September 2012 right through from Discovery into Alpha and then Beta.
I have in the past worked with many 'old' style DWP Projects where requirements were so complex and developer driven that when the actual product was delivered it didn't always fit business or user needs. Agile was new to me and to be honest took some getting used to but once I could see the benefits I loved this way of working.
Co-location has been a key requirement. This has been a challenge in itself but we have moved mountains to keep Valtech and the rest of the core delivery team based in the Carer's Allowance Unit.
Carer's Allowance staff have been involved in the development right from the start of the process. Working with the Valtech and the core  team on a daily basis has meant that we can see the service taking shape and the agile methodology means that nothing is set in stone, things can be revisited and changed based on business and user feedback and needs.
One of the major improvements for me is the way existing processes can be challenged and changed to ensure they work digitally. A key change being the removal of the requirement for the Disabled Person to sign a paper declaration. This came about following considerable analysis and discussion between DWP Legal and Policy and the Carer's Allowance Unit, and introduced a new approach to verifying the Disabled Persons understanding of the CA claim and when it would impact any benefits they receive has been introduced.
The feedback from real carers who have been involved in testing the service right from the start has ensured we focus on the people who will be using the service and their needs, as well as the business requirements. Again this is a change to the way we are used to working but it means we can take feedback from real users into account when building the service.
This is a completely different way of working that works!  Yes this has been a massive cultural challenge for the Carer's Allowance Unit and meant we had to go through a lot pain in the early days, but the Carer's Allowance staff who have been part of this process have embraced it and some of the best ideas when developing the service have come from these staff.
This has been a challenging and demanding process often working at considerable pace but the results speak for themselves. I am really proud of the work we have done to produce a brand new world class Carer's Allowance digital claim service.