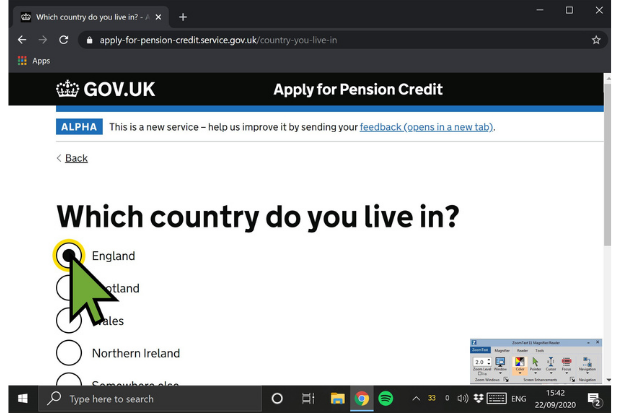 At the start of the COVID-19 pandemic, our small team was established and approached by several government projects to test a range of new online services for accessibility compliance.
These applications were being fast-tracked to help DWP deal with a significant increase in the number of citizens needing to access our services.
The new services included New Style Jobseekers Allowance, Employment Support Allowance, Pension Credit, Carers Allowance and Get Your State Pension.
The challenge for us was to support the release of these new services throughout the COVID-19 crisis and assure their usability and compliance against the accessibility standards.
Using Dragon, ZoomText and JAWS
Over one in five people in the UK have a limiting long term illness, impairment or disability, while many more have temporary disabilities.
The COVID-19 pandemic made it harder for some people to access our services, so we needed to make sure all new services could be accessed via home computers and mobile devices.
Our primary role involved using our extensive accessibility testing knowledge and experience to confirm that these systems were compliant with the latest Web Content Accessibility Guidelines (WCAG v2.1) and 2018 Accessibility Regulations for the public sector.
We used a range of assistive technologies during testing including Dragon, a speech recognition software; ZoomText, a screen magnifier; and JAWS and Voiceover screen readers.
The new online services were developed to provide fast, easy, remote access for a whole range of users within the UK, allowing people to quickly submit forms online or report any changes in their circumstances. They were also used by our DWP customer service agents to perform immediate online updates on behalf of customers.
Making accessibility central to the new services
Working remotely always presents challenges, for our new team this included the urgent configuration of devices and installation of accessibility software.
We quickly resolved those issues with the assistance of our DWP TechNow team. We also had to factor in that these services needed to be delivered as quickly as possible, whilst ensuring our work was completed to the required standards.
As a new team, we had to quickly establish defined testing processes and build effective working relationships with the many projects who required our assistance. Our responsibilities included;
Advising government digital projects about accessibility standards and of the requirement for all government digital services to be accessibility compliant
Using our accessibility testing knowledge and experience to robustly test the new digital services to ensure they worked effectively with a range of assistive technology tools
Highlighting any test failures, providing full details of any defects, impact reasons and possible workarounds
Testing new changes and solutions against assistive technologies to ensure they work successfully for accessibility users
Helping to ensure government digital services provide access to a published accessibility statement and provide contact details to allow users to report any accessibility issues
I am proud to say we developed an excellent communication strategy, provided a clear accessibility testing approach and a robust set of test results for the various projects we were working with.
Building a strategy to prioritise accessibility
As a team we were very proud that the accessibility testing work we have performed during the COVID-19 pandemic has been successful. So much so that we are now being approached by more digital projects who are looking to benefit from our testing knowledge and experience.
Our team are now also building a defined strategy to prioritise accessibility education and culture throughout DWP, and to engage with projects and teams to help them understand the accessibility standards and their legal requirements.
There's now a real opportunity for us to set the bar for accessibility in all of our online services.
Personally, it has been such a great privilege to be able to contribute to a faster and more streamlined delivery process during the COVID-19 crisis.
We've helped to deliver a range of exciting new citizen-facing services that are accessible and easy to navigate.
Following the GOV.UK accessibility guidance and accessibility compliance standards has helped to ensure that these new DWP digital projects are accessible for both disabled and non-disabled users.
It is so exciting to be involved with such initiatives to enable easier access of services to everyone who needs to use them and to make a real difference to the lives of our service agents and customers.
Like this blog? Why not subscribe for more blogs like this? Sign up for email updates whenever new content is posted!