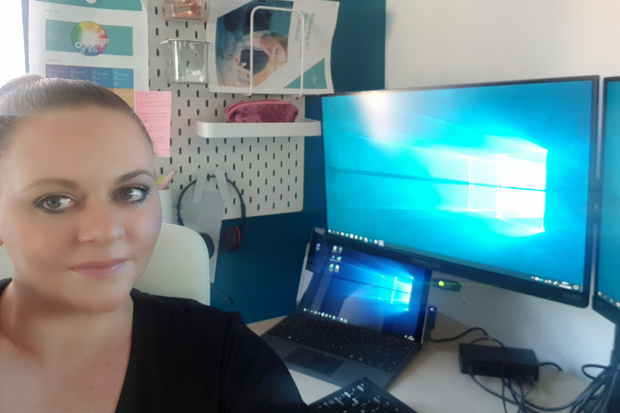 When I started my role at DWP Digital a year ago, I thought my academic learning days were over. I'd completed my degree and advanced diploma (many years ago!) and was comfortable with continuing my professional development through short courses and webinars.
I realised I had focused all my career in one specialist area, internal communications. That's what I love to do and have no plans to do anything different. However, I knew in order to progress into a leadership role, I needed to take myself out of that niche area and think broader.
My apprenticeship came to me by chance, but at exactly the right time.
Taking advantage of opportunities
My job involves keeping people informed, connected and engaged. I'm often signposting people to great opportunities for them to learn and develop. However, it's not often that I take a step back and ask myself if these opportunities are something for me.
Early in my new role, I was promoting the DWP Apprenticeship offer to my colleagues, as part of Apprenticeship Week. When I saw the Senior Leader, MBA, Degree Apprenticeship I wondered if it would be a bit cheeky to ask to do it so soon in a new job, after all I wasn't even through my probation period!
I had a look through the materials and realised that this wouldn't just benefit me and my personal development, but also the organisation too. So, I discussed it with my manager in my next one-to-one.
She couldn't have been more supportive. In fact, she had thought of me when she had seen the Apprenticeship advertised. I took this all as a sign and put my application in and was delighted to be accepted on the programme.
A supportive employer
I'm really lucky to work for an employer that values learning and development. Along with having the course funded (through the Apprenticeship Levy), I also get 20% time off the job to study. This has been a great help as there's a lot of work to do!
I have fantastic support from my Apprenticeship Coach too, we meet regularly to discuss my progress. She really helps me take stock of how I'm applying my learning in my role and importantly evidencing this so that I can continue to build my portfolio to support my end-point-assessment.
My first 2 modules covered leadership identity and leading the entrepreneurial organisation where I was able to use real 'on the job' initiatives as part of my assignments. Using the module workshops, and applying the thinking and theories, I was able to develop my ideas and skills to help influence and make them happen.
Learning during a pandemic
Committing to this type of learning through a pandemic has been different! Everything is online, which can make it harder to focus. Anything I've done previous to this has usually been in a classroom environment, so it's definitely taking some getting used to.
My team and manager have been really supportive, but I also need to hold myself accountable. I've put some practical steps into action, including blocking a regular time slot out of my diary, and putting my out of office on to let people know I am unavailable.
There is a real personal commitment to this too, with studying and writing assignments in my own time. In some ways I've been lucky that I haven't had much else to do over the last 10 months while we have been in and out of lockdown! I do think it would have been a bit more challenging if I had other options to distract me.
But I've decided to use this 'downtime' to invest in myself.
What I'll gain through the Apprenticeship
The course I am on is the Senior Leader, MBA, Degree Apprenticeship. It's run by QA Higher in partnership with Middlesex University. At the end of the course, I will have a level 7 Masters degree, and the Apprenticeship element is awarded by the Chartered Management Institute (CMI).
Once I have passed the end-point-assessment, using my portfolio of work-based evidence, I'll be able to apply to be a Chartered Manager through the CMI. This is an accreditation nationally and internationally recognised as a badge of managerial and leadership competence.
I hope that being a Chartered Manager, with an MBA, will support my leadership development, help me to be a better manager and leader to my team and my practice, and potentially open up opportunities for me within DWP in the future.
Give it a go!
I can't say it's all been easy. Studying at this level is completely different to my degree days. The course is challenging. I'm doing and learning things that are new to me and out of my comfort zone. But I' m trying to not put too much pressure on myself and taking each module as it comes.
I've made some valuable new connections with other DWP colleagues on the programme and people at other, very different, organisations. We share advice and ideas and it's good to get other people's perspectives on things.
People often believe apprenticeships are for young people starting their career, or for more technical subjects. But actually, there are lots of opportunities across many disciplines at any level or background.
I'd encourage anyone, whatever stage in their career, to consider an Apprenticeship with DWP Digital. It's never too late to learn something new and bring that thinking back to your day job!
Find out more about some of the Digital Apprenticeships available with DWP Digital on our Careers site.