I'm Rachel Poole, a member of the DWP Digital Engagement team. In my day job, I write about how my colleagues in DWP Digital are transforming services to help millions of citizens.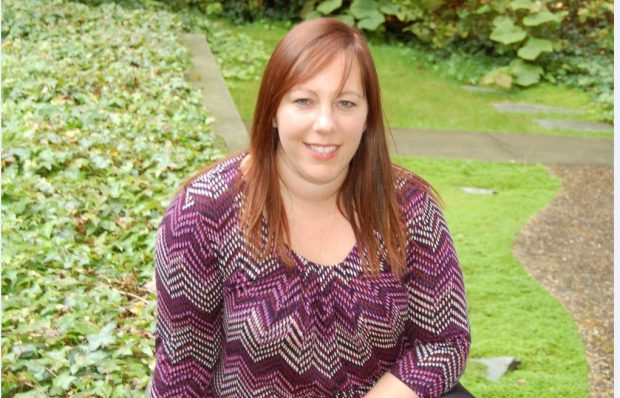 Sharing these stories demonstrates to the sector and potential recruits how we work, what motivates us and what our organisations culture is like. We recognise that a diverse workforce is essential when our work helps improves the lives of millions and I'm particularly passionate about raising awareness of diversity and inclusion issues.
Shortlisted for a civil service diversity and inclusion award
Although I'm used to writing blogs, it's normally in collaboration with the author, so to be writing one of my own feels quite strange. But, having been shortlisted – together with my colleague Shelley Hardman – for a Civil Service Diversity and Inclusion award for championing Lesbian, Gay, Bisexual, Transgender and Intersex inclusion, I felt that it was time to share my story about why I think it's great to work for DWP Digital.
Pride in my blogs
In November last year, I volunteered to help out the Yorkshire and Humberside (Y&H) DWPride network for LGBT* colleagues, with their communications. An email from Shelley, who is the lead for Y&H, had pinged into our shared mailbox, asking for some help and I'd written back.
As a writer on the blog, I'm always looking for interesting and inclusive stories to share, so I asked Shelley if she knew anyone who might be interested in blogging. Shelley's response was "I'll give it a go", so I arranged to meet her at an event in Sheffield where she was giving a diversity and inclusion presentation.
Together we wrote Shelley's blog, 'Pride in our work'. It was an instant success and we were delighted with the interest it generated, with shares on Twitter from our Permanent Secretary, Robert Devereux, as well as Head of the Civil Service, Jeremy Heywood. Shelley's blog has been the most successful blog on the DWP Digital blogging platform to date in terms of unique page views – that is the number of individual people reading it. It's now had more than 5,000 views, and as I said to Shelley, imagine 5,000 people in one room giving you over two minutes of their undivided attention, now that's quite a powerful image!
Talking to Shelley made me realise how important the network was and I wanted to do what I could to make it as visible as possible. My background is in communications so I was happy to be able to share my knowledge and help produce the Y&H newsletter and DWPride intranet site for all DWP colleagues.
An encouraging environment
My line management have allowed me the time to take part in the DWPride work, so if there's a meeting or event happening and work commitments allow, I'm able to take part. I do the DWPride work on a voluntary basis, in office hours if I'm able, but if not I'll do it in my own time, because promoting diversity and inclusion is something I feel strongly about.
I feel lucky to work for a department that has such great inclusive policies. Because of my interest in diversity and inclusion subjects, I lead on these topics for blog-posts in my day job too. I really enjoy talking to people from all walks of life to promote under-represented groups, publicise special dates on the diversity calendar, champion inclusion and talk about subjects that are sometimes seen as taboo. It wasn't long before the DWPride committee asked me to be the network's communications manager, and I now lead on the DWPride communications across DWP.
Championing the community
Buoyed up by the success of Shelley's blog, I went on to interview Harlean Carpenter, about her experience as a transgender woman working in DWP, for our Transgender Day of Visibility celebrations. Knowing that it was a subject that would interest people beyond DWP Digital, I arranged for Harlean's blog 'Pride and Prejudices: should transgender visibility be an issue?' to be published to the Civil Service blogging platform. I've since supported several campaigns promoting LGBT* inclusion, such as LGBT* History Month, the International Day Against Homophobia, Biphobia and Transphobia and Bi Visibility day.
Surprised to be shortlisted
My first reaction to being shortlisted was shock. But, when I look back at all the work that has been put into championing LGBT* issues by the DWPride network in the last year, particularly in Y&H where Shelley is leading the way, I shouldn't be surprised really. We've worked hard to promote DWPride, and I'm proud of the great content we've produced to help raise awareness for, and of, the LGBT* community. And, it's a huge honour to be recognised in this way.
I can be me
We spend a lot of time in work and with our colleagues, so it's important that people feel relaxed and happy in their work environment. Knowing that there's a network to support you – be it LGBT* or any other network covering characteristics that you associate with – can be a great comfort.
Helping people to feel accepted can be as simple as seeing the rainbow flag flying above your building in support of LGBT* Pride, to reading an article from a colleague who's felt comfortable enough to open up and talk about issues that you can identify with, for example trans or bi sexuality.
It also helps people who are not part of the LGBT* community understand the issues minority groups can face and the importance to them of having allies. Knowing you're not alone and that other people out there relate with you or have the same concerns, can help you feel accepted and that you can be yourself.
I'm pleased I've had the opportunity to make a difference, and to be shortlisted for something that I enjoy doing is the icing-on-the cake. The awards will be announced on Friday 13 October – cross your fingers for us!