As a woman working in digital technology and a member of the lesbian, gay, bisexual and transgender* (LGBT*) community, I'm a minority within a minority.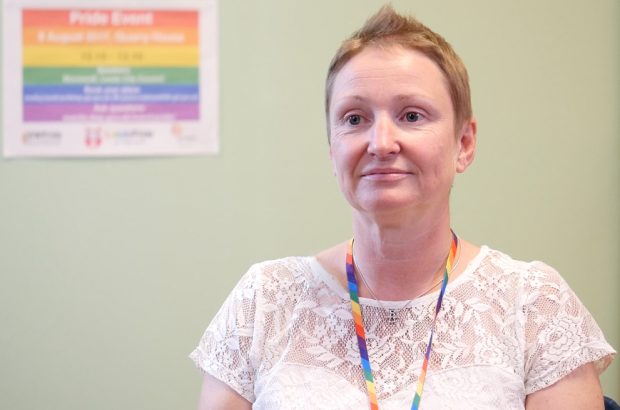 I'm proud to be the Yorkshire and Humberside regional representative for DWPride and I'm passionate about raising the visibility and awareness of inclusivity, including the issues people who identify with this group face. I'm most passionate about the importance of creating an environment where people feel safe being who they really are at work – being their whole self. I truly believe this is the key to unlocking our people's full potential.
We launched DWPride on 24 October with the support of Permanent Secretary Robert Devereux and Sexual Orientation and Gender Identity Champion, Jeremy Moore, who said, "It is important that our LGBT* colleagues feel supported in the workplace, so having a dedicated LGBT* network in place is a very important part of helping to achieve that."
I whole-heartedly support this view, and am working hard with other DWPride members across all sites to build a DWP-wide network of support for colleagues who otherwise may feel isolated and excluded.
In DWP, we need to value people from all backgrounds. We want a diverse, inclusive, open environment where everyone can draw on their talent and experience to achieve their full potential and improve the service we provide to our customers. As a DWPride rep, my vision is to have an active network that supports the LGBT* community, organises events and activities, and supports each other on a national level. I'm based in Sheffield, so starting locally, I'm finding out how people want to get involved. Including things like raising our profile, partnering with local LGBT* organisations such as Stonewall (the largest LGBT* rights organisation in Europe) and Gay Pride events. I'm really excited for the future as our membership has been gradually growing since the launch. The more people get involved, the bigger difference we make, right through from one person to the whole Department.
There's a huge amount of research out there that shows why this is such an important area, both for individuals and businesses. For example, research from Stonewall's workplace equality index found that 67% of people who are 'out' (open about their sexual orientation) at work are more likely to be satisfied with their sense of achievement. Their report Peak Performance looks at the correlation between gay people and productivity. It found that employers with good practice around sexual orientation could identify positive links between the workplace climate and productivity and performance.
Supporting LGBT colleagues and providing role models for them too, can significantly improve their effectiveness. Role models play a vital part in promoting diversity and inclusivity. People who can be open about their sexuality at work are more likely to enjoy going to work, form honest relationships with their colleagues, have more confidence, and ultimately be more productive. The message we should all take from this is that providing equality at work makes good business sense.
My own personal experience is a good example of how having the confidence to be you at work can make a massive difference to your well-being and happiness. I've worked in DWP for over 20 years and have been out for the past 13, since I came out in my early 30s. I spent the first half of my career not being the full me and remember feelings of frustration, nervousness, apprehension and I was lacking in confidence. I've spent the latter half out and proud.
For the last eight years or so, I've been in a mainly male-dominated environment working on areas like web convergence (the move from Business Link and Direct Gov to GOV.UK), project managing a number of complex and challenging digital projects and other service delivery roles both in Technology and Business Transformation. I don't allow my gender or my sexual orientation to be a factor and deal with any issues on a personal basis. I am who I am, and I hope that people will accept the real me rather than an idea of what is 'normal'. It has taken time for me to get to this level of emotional security and establish myself as the real me in my work life and I'm very comfortable with being open about who I am.
Things are good now, but I can remember trying to come out years before I actually did and not getting the support I needed. The reaction of the person I was confiding in was of shock rather than open-mindedness and really knocked my confidence. The door of my 'closet' was well and truly slammed shut after that. It was almost a decade later that I felt able to try again, when I met my wonderful (now) wife though work. When I did come out, I didn't do it by halves. At the time, I worked in a contact centre with about 130 colleagues!
Telling people that you're gay can be scary beyond belief as, although people can be really supportive, there is always a fear of rejection. The decision to come out can also coincide with other life-changing events and, when you have to deal with personal matters too, it can be a really hard time. Imagine stepping out of a door when you can't see what you are stepping into, that is what it felt like to me. For all I knew, it was a bottomless pit and I'd be free falling uncontrollably. There was no going back, no unsaying it. It was a huge deal at the time. That's why it's so important to me (and for others) to be in a supportive and open-minded work environment with positive role models. I have this in my current role, where I am thriving and being the best me (all of me) I can be.
Having the confidence to be myself at work and the positive benefits it brings to my mental health, self-esteem, personal worth and moral, far outweighs any negativity I've encountered (or was worried I might). Being guarded about what you are saying to people and constantly applying a filter because you don't know how people will react can be exhausting. It also affects your relationships with others, even if you don't think it does. I found coming out a very empowering experience. In fact, I find positives all over the place, the biggest being that people have just accepted me for who I am and have treated me with the same inclusivity and equality as they would with heterosexual people discussing their relationships. I've met with a mixture of responses from curiosity to love and support. It's important to me that people who might be struggling with anxiety, linked to their lifestyle, know that there is a network of support available to them and know how to reach out to us if they need our help.
Mayank Prakash, our Chief Digital and Information Officer and a DWP Diversity and Inclusion champion said, "Diversity is important not just from a fairness and equality point of view, but from a business perspective too. Academic research (McKinsey – Diversity Matters report) has found that companies with more diverse corporate leadership teams tend to be more successful."
I'm keen to spread the word, which is one of the reasons I presented to colleagues at a recent Digital Data and Analytics Accelerated Learning Programme event. I encouraged attendees to think about how they could support people who might be going through a difficult time because of their sexual orientation, gender or other reasons why they may feel different. Our future leaders, who were at the event to gain a wider awareness of initiatives in DWP from digital to diversity, came up with pledges to raise awareness of equality issues and ideas about how they could advocate our diversity networks.
Allyson Evans, Digital Data Warehouse Designer (pictured right), said, "It was really interesting to hear about different ways to encourage diversity and equality. We discussed how we could spread the message and develop a safe working environment. We already have behaviour champions, so I'll be encouraging them to contact the DWPride team for further information."
Linda Sterling, our DWPride Communications Officer, also spoke at the event. She said, "The 2010 Equality Act protects people with certain characteristics against discrimination, so people have a legal obligation to consider their behaviours towards each other. But, as human beings, we also have a moral obligation to treat people fairly.
"I'm pleased that the attendees were enthused by the event. During the session, we encouraged them to challenge discrimination if they come across it. Nobody should be apologetic for standing up for what is right - challenge people, and be the real you."
The Open For Business report, which makes a case for the importance of LGBT inclusion, found that a representation of LGBT* people in the workplace is better for creativity and collaboration. Diversity encourages a varied and different perspective and can help to raise our profile as an employer of choice.
Linda (pictured left) has been out and proud for more than 30 years. Her direct experiences have helped to shape her belief that differing degrees of discrimination and prejudice remain prevalent at work and in our society, and are even beginning to thrive again today. Proud to serve our communities and be a part of DWP, helping the most vulnerable and needy in society, Linda wants to try and make a positive difference for equality. She said, "That's why I joined DWPride. Although many people are supportive and tolerant, I've found that there remains clear disadvantage amongst under represented or minority groups. I believe most of us want to see all people treated fairly and to work in a positive environment that generates understanding and unity."
If I can be a role model by helping people identify similarities with my experience and their own, and give them the courage to think about changing the way they are living their life, then it's worthwhile. I hope people will realise that we're not just a group of people getting together for a social! Keeping the profile of the LGBT* community raised might inspire somebody to take the next step and that makes what we are doing invaluable. Research and statistics support this and, on a personal level, if I can make a difference to one person, that makes me DWProud.