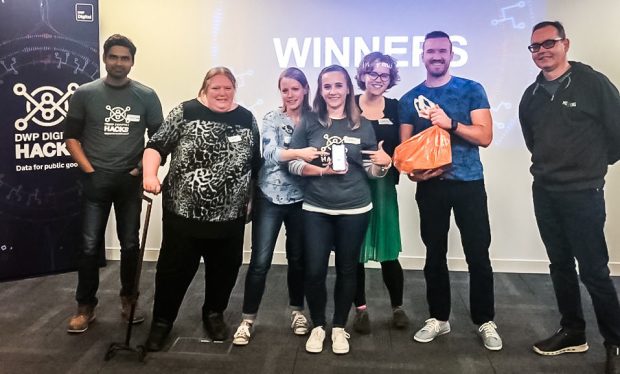 I'm a software engineer at DWP Digital and part of the winning team at last week's Hack the North 2.0.
I decided to go along to Hack the North because it would be a fun way to develop my technical skills whilst building a technology solution for social good.
The people in my team were Alison Smith a DWP consultant, Helen Graham a data analyst, Chris Chappill also a consultant, Emma Whales who works in user experience, Sarah Hutchinson a user researcher and data analyst Raj Sharma. We formed the group over lunch based on our skills set and called ourselves 'Team Beacon' after our technology solution.
Deciding on our idea
At the beginning of the event we listened to a series of lightning talks which gave us inspiration for generating ideas for solutions. Each of us in the team created our own list of ideas (I had ten ideas for potential solutions) and as a team we discussed the merits of each and decided we wanted to go with Chris' idea for a technology solution to help vulnerable people.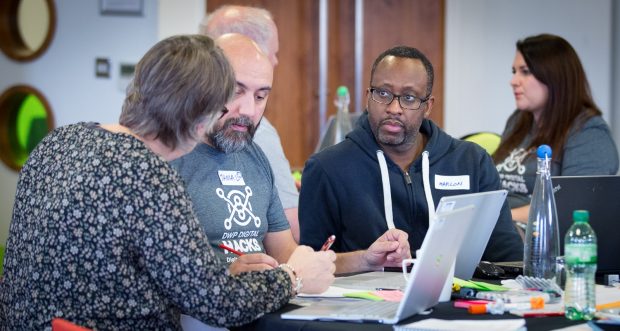 The idea included web pages which updated in real-time on touch screens that would be easy to use and accessible for people to interact with. The solution would help vulnerable people in Manchester city centre.
How we worked as a team
The team split into 2 initial roles: user researchers working with potential users; and a design team who developed the idea further to come up with an initial design.
My role was in the design team, investigating design and code for the prototype screens and providing advice on the suggested structure of the MongoDB databases which would eventually be linked to the screens. It was really interesting and we had a variety of people-resources at the hack who we could tap into for advice, such as the processes that DWP work coaches have to follow with their customers.
A few members of the team pitched our solution to the judges who were a mix of experts from NorthCoders, DWP and MongoDB and… we won!
It felt great to be part of the winning team
We were all really pleased to win, because we came up with a viable solution to help the most vulnerable people in society. We now plan to take the idea and solution to Civil Service Local for further development and to make it a reality.
The hack allowed us to come together as a team and use different expertise to produce an idea and solution that with the benefit of further user research, and work such as using the prototype screens and running a pilot in one location to test the hardware, infrastructure and the software solution together, could be a real success.
I really enjoyed the 2 days and I'm up for the challenge of a lot of learning to develop this further. I am quite new to hackathons, I've taken part in 3 to date, and they're helping me gain confidence in my skills. And, out of the 3 I've done I've been part of the winning team for 2 of them!
You can catch up on all the action from the event by searching #HackTheNorth on Twitter.