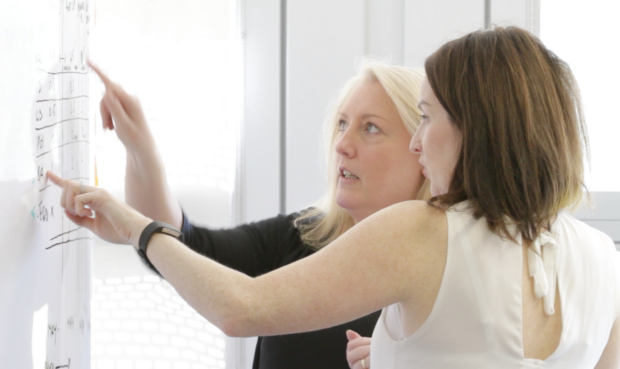 After joining DWP Digital last year, I decided to write a blog post reflecting on my journey to get here and my first few months in the role.
To go back a little earlier, I started work as a graduate with a global IT consultancy company, and over 16 years worked with some amazingly talented people on projects for many different clients all over the UK. I loved the job as no 2 days were ever the same, but unfortunately just before Christmas 2016 I found myself facing redundancy.
My key skills were in ETL (Extract, Transform and Load of data) as a team leader, designer and developer, so perhaps naively, I thought I'd be able to get a new job reasonably easily. Alas there were no ETL job vacancies in the north east and as I now had a young family, I wasn't willing to go back to consulting where I would be living in hotels all week. Eventually, a suitable vacancy arose at an accountancy software company and with much trepidation, I landed the role.
I had all the worries and anxieties that any new starter would have: Am I up to the job? Can I pick up the new skills required? Will I fit in? Will I have a supportive manager? The list was endless! At first all was good, but within a few months my manager changed, and it became apparent that it was not the job for me. After one incident too many, I'd had enough and so at Christmas 2017 I faced the prospect of finding a new job yet again.
A fresh start
This time, ETL vacancies were like buses; 4 came along at the same time and I was lucky enough to interview for 3 of them. DWP made a very good offer and so in July 2018, I found myself walking through the doors of the Newcastle hub, both excited and anxious in equal measure.
I was excited as I was going back to a 'techie' role, something I had hankered for since leaving the world of IT consultancy, but probably more nervous as I really wanted the role to work out this time. The fact I'd been out of hands-on ETL development work for 18 months was playing heavily on my mind. I was also desperate to work with talented, friendly and supportive colleagues again and that's something you only discover after working in a role for a while.
So, here I am 7 months into the role and thoroughly enjoying it. My initial fears quickly dissipated and I feel I'm a valuable member, contributing positively to the team.
I was thrown in at the deep end, having to code ETL routines in Informatica and PL/SQL. It has been a steep learning curve, but one that has been exciting. And it's on this journey that I've have discovered how talented and supportive my colleagues (including managers) are, as they make every effort to answer my endless stream of questions. Have I made silly mistakes along the way? Yes, absolutely, but I hope I have learned from each one.
So, what puts a smile on my face when I come to work at DWP Digital? Interesting and challenging work; genuinely friendly, supportive and knowledgeable colleagues; social events where everyone is welcome; well-supported charity events in the office; plenty of opportunities to work with colleagues from other DWP Digital hubs; the practice communities where colleagues can share knowledge and best practice and do 'show and tell' presentations.
What's not so great? The lack of onsite parking, and for me, a long commute (but then I've chose to live in a lovely coastal village 30 miles north, so I shouldn't really complain!)
So far, the job has given me the technical challenges that I crave, combined with talented and supportive colleagues, and the incredibly flexible working. I'm looking forward to seeing where this role will take me in my career.
If you're interesting in working as part of our Data practice, check out our vacancies.