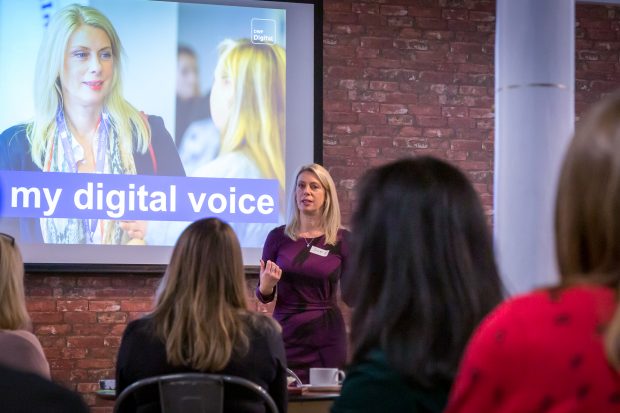 We're delighted to have 2 of our amazing women shortlisted in this week's Women in IT awards. Here at DWP Digital we're working hard to improve gender parity, so to have 2 of our nominations shortlisted is wonderful recognition of our work.
Jane for IT team of the Year
Jane Lamplough is an inspirational leader who led the transformation project for DWP User Support Services. This project supported an overhaul of tech support services for DWP.
In 2018 the department began to transform the organisation's tech support into one single national business. This support, carried out by over 400 colleagues, provides resolutions to DWP's 80,000 staff. It is delivered via multiple channels including a self-service portal, web chat facility, tech bars and on-site support.
Jane overcame challenges by leading from the front, consulting with colleagues and running working parties to gain a diverse range of views and insights before making changes. Managing the project this way ensured that the team felt included understood the project's aims, objectives and goals.
Jane's driving force enabled the team to completely transform the large, dispersed national front-line tech support operation, while maintaining exceptional customer satisfaction scores. She was also influential in significantly improved incident resolution times and enabling the team to deliver a wide range of efficiencies.
Joanne for Diversity Initiative of the Year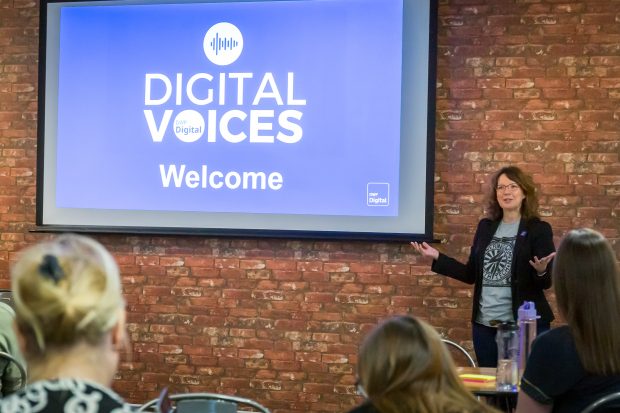 Digital Voices is the brain-child of our Digital Engagement manager Joanne Rewcastle. We believe that one of the ways to create an inclusive workplace is to have more visible role models to inspire others to be leaders in digital. Joanne and her team developed a Digital Voices programme, working closely with the Women in Digital network. It's a ground-breaking agenda of activities to help women develop their digital skills and knowledge.
Over the course of the programme the women take part in regular learning sessions including using social media, blogging, being videoed, interviewing skills as well as joining sessions from industry-wide guest speakers. They are also encouraged to take part in internal and external speaking and networking opportunities.
Joanne's DWP Digital Engagement team provide the practical training and support the Digital Voices need in telling their story, from coaching to help with presentations and public speaking. For example, women in the second cohort wrote a total of 9 blog posts that attracted more than 4,000 unique views, above average engagement rates on social media posts and took part in 5 videos which attracted more than 4,000 views.
At the end of the programme the women reported a 100% increase in confidence in talking about their work externally, and confidence in using social media in a professional capacity increased from 40% to 100%. As a result of the Digital Voices programme, Joanne and her team have successfully increased our presence of visible female role models.
Good luck!
We have our fingers crossed for you both, you're already winners.
We're recruiting diverse, talented people like Jane and Joanne right now. Visit our careers site to see our latest vacancies.