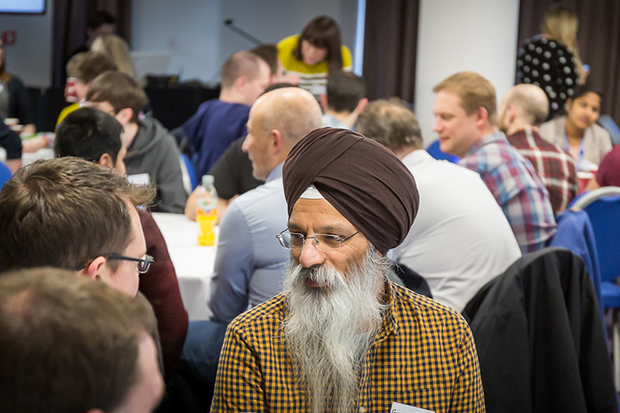 DWP Digital recently hosted a cross-government meetup for departments using application programming interfaces (APIs) to help build more joined up digital services for users. In this blogpost, five of the attendees - from DWP and other government departments - reflect on the event.
'APIs are vital for reuse'
Jacqui Leggetter, Integration Product Delivery Unit Lead, DWP Digital
APIs help systems talk to each other better. Using APIs makes it much easier to connect systems and to do so in a consistent, standard way.
APIs are vital for reuse. There's an increasing drive for us to share information and be more joined up in the digital age.
We're using APIs cross-government and within DWP, so it was great to host this conference. There was a wide range of cross government departments who took part, including NHS, HMRC, Ministry of Defence (MoD), Home Office and Ministry of Justice to name but a few.
These meetups are so important because we're all on a similar journey and it's important we can learn from each other and see opportunities for joint collaboration.
It's great to talk about how we're applying the technology and the difference it's making to our services.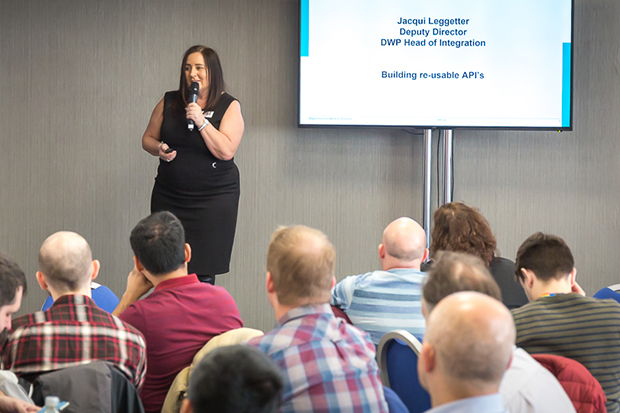 'We're building a community of practice'
Jonathan Telfer - interoperability architect, NHS Digital
We work in a complex environment and we have a lot of systems in the NHS that clinicians use. APIs help them get the data they need so they can support patients at the point of care.
We're at the early stages of a journey of API management, some of the other departments are a bit further on.
We are working closely with DWP and other government organisations on APIs so it's great to share knowledge and experience to raise the maturity of APIs across government.
The more collateral we can build that can be shared and reused by different departments, the more we save the government and the taxpayer money.
It was good to present our progress at the meetup and get feedback on where we are on our API journey.
People across the community are starting to understand what you need to do to deliver APIs well, we're building a community of best practice that we can use to build a foundation on.
'I enjoyed hearing lots of perspectives'
Craig Eblett - Digital Director, Delivery and Shared Platforms
In DWP our business and digital transformation is founded on putting the citizen at the heart of one DWP service, irrespective of which product or individual service they may need.
To achieve this, we must focus on reuse and integration of digital assets with APIs as the foundation. Through the use of APIs teams will be able to focus on solving strategic business problems rather than solving the same problems over and over again.
We've recently been working closely with the NHS to build a number of fully reuseable APIs and it was good to showcase that work at the event.
I really enjoyed hearing lots of different perspectives on similar problems so it's good to have those conversations with other departments. Events like this really help us come together to define and solve problems together.
We're all here to collectively serve citizens and we need to be efficient - the more we can share ideas, approaches, functionality and data securely across government the better it is for citizens.
'It's good to join up to share ideas'
Richard Baines - Head of API Design and Delivery, HMRC
APIs underpin how the modern web works and how systems talk to each other. In HMRC we use them for a variety of things - they have encouraged us to change our thinking because of the possibilities they offer.
I enjoyed the API meetup - these events help me to stimulate my thoughts on how we can do things differently. It was good to join up and share ideas.
There are so many areas between departments where our boundaries are blurred, where we need to work together. Some aspects of citizens' lives touch across different departments, so working together and joining up will help the public.
The technology is changing all the time and there will be innovative solutions that we don't know about yet that will change the way we work in future. But we will continue to use APIs and collaborate across government as we do so.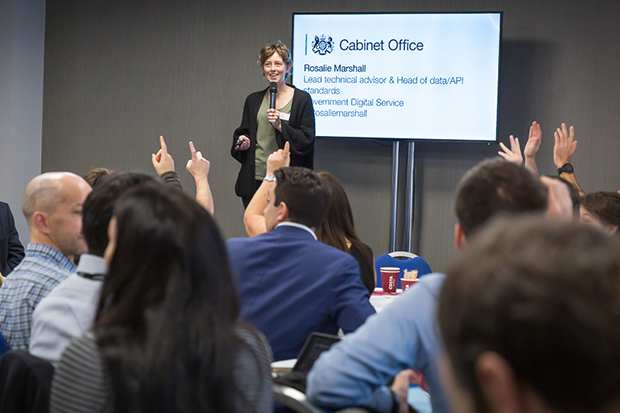 'Collaborating on APIs will help users'
Rosalie Marshall, API and Data Exchange Standards Lead, GDS
There are a lot of ways we can use APIs to build better services for citizens so they can get the information they need when they need it.
Specifically, getting different organisations to collaborate on cross-government APIs will help citizens in lots of ways – for example, giving them faster access to benefits and giving patients more autonomy over their own data.
APIs can also help to transform legacy services for departments, so there's lots of opportunities.
We want to improve API capability across government, and events like this really help to embed consistent standards.
We heard from MoD and NHS about beginning their API journeys so this meet up lets organisations like DWP and HMRC who have been working on APIs for years to bring their experience to those organisations just starting out.
There's so much good stuff we can do just by bringing people together and sharing that experience.
Like this blog? Why not subscribe for more blogs like this? Sign up for email updates whenever new content is posted!