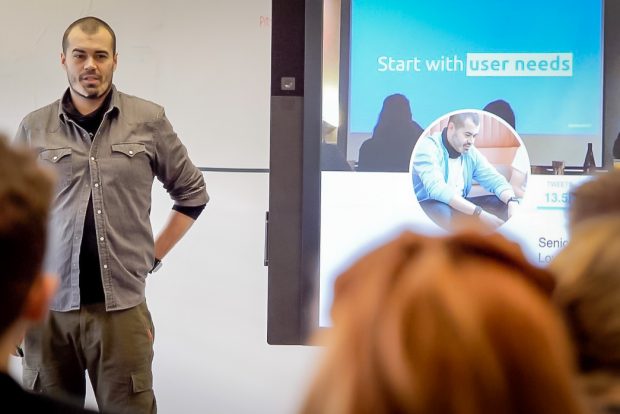 Having spent several years on the DWP Digital team as a senior interaction designer, it has always been my responsibility to make sure we're designing services that are intuitive and easy for everybody to use.
Throughout my career, I've always been passionate about accessibility. Outside of my day-to-day work, I would do service assessments, workshops and conference talks, and I would talk about accessibility at every opportunity.
As an advocate on the subject, I'm delighted to now be stepping into the role of Head of Accessibility for DWP Digital, where I can talk to even more people and support more teams to meet the needs of all citizens.
I've noticed a gradual shift in people's interest in accessibility over the past couple of years. This is likely to be a result of the accessibility regulations that came into force in 2018 and introduced rules on accessibility for all websites and mobile applications.
These regulations have helped to raise awareness in the same way the changes to General Data Protection Regulations (GDPR) had everybody talking about data and privacy when they were introduced.
While it's good that the accessibility regulations have increased awareness, with it has come a lot of uncertainty. People often want a list of things they can tick off to say they are compliant, rather than appreciating what it really means to make their service accessible.
We can't do accessibility properly without inclusion
To give you an example, I've seen a situation where a user was trying to type 'September' into a number field using a keyboard. They were trying to input their date of birth and didn't understand the service was expecting them to enter a number.
The service showed an error message and told the user to enter a valid month. But September is a valid month, so of course it was confusing.
After changing the number field to be a text field and allowing it to accept both month names and numbers, our team automatically assumed we had made the service better for everybody. The HTML was valid, and the service was technically compliant.
However, we then did some research with a user who relied on a piece of software called Dragon. This allows you to talk commands at the computer rather than using a mouse or a keyboard.
Because we had changed the field to accept numbers or text, when you spoke the commands to enter your date of birth, Dragon saw it was a text field and therefore attempted to enter text. So, it wrote 'nine' in the box, which of course is not a valid month!
The Dragon user actually managed to enter 'nine', 'oh nine' and 'number nine' in the box, which of course all caused errors.
In conclusion, we had tried to make the service better, but for somebody not using a keyboard we had actually made it worse. So, whilst being compliant, it was not accessible for a user with particular needs that we needed to address.
Accessibility is not just a checkbox exercise. It's about inclusion. It's providing the same level of service and human rights to everybody and culturally we need to embrace it in everything that we do.
Understanding accessibility
In the coming months I'm hoping to help product teams understand the regulations that need to be addressed, and support them in thinking about accessibility and inclusion through every step of a project. I'm really looking forward to collaborating with colleagues in DWP and across government, so if you want to reach out and say hello, please do so.
Like this blog? Why not subscribe for more blogs like this? Sign up for email updates whenever new content is posted!