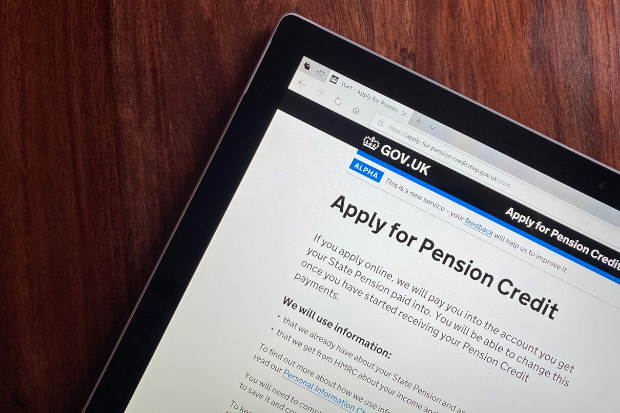 At the start of May, we introduced the ability to apply for Pension Credit online, alongside the existing telephone and paper options for this service. Giving users the option to apply for Pension Credit online was something that was always part of our long-term roadmap, but the impact of coronavirus meant that we had to accelerate the process and deliver at pace.
User research had shown us that in many cases it wasn't the citizen themselves filling out the paper form, but often it was a digitally-literate family member who was helping outside of the working day, or a volunteer from a charity. Therefore, a digital service would make things a lot easier for them to apply for Pension Credit.
Coronavirus has only underlined how important that digital service could be. For citizens, we saw an increase in applications once the economic impact of the COVID-19 outbreak hit; a lot of people were topping up their pension with part-time or occasional work, which was curtailed almost immediately.
Asking those people, many of whom have disabilities or are in the vulnerable category, to go out and post a form was difficult at a time when we were all being asked to stay at home as much as possible.
Also from an internal point of view, a significant section of DWP Pension Credit advisers were self-isolating at home, so we didn't have the required amount of people available to answer the increase in calls.
A challenging brief
It was clear that we had to accelerate our digital solution, in a way that would make it simple for citizens and our staff who were working from home. We had already spent around 2 years working on internal-facing changes to the system that were at a private beta stage, so the combined knowledge across the team on all aspects of Pension Credit was strong - we weren't coming from a standing start.
However, not only would we have to accelerate our usual delivery timescales, but with us all working from home, we also had the challenge of adapting our working practices.
From a design point of view, we had to look at the existing paper form and the agent-facing service and draw the new online version out to ensure that every question was covered for an advisor to process a claim.
It's a lot different to how we'd worked previously, where the team sat close to one another and could stand around a whiteboard to discuss ideas. Now we've got to be more prepared and we have to know exactly what we want to get out of every meeting.
We've had to get used to working around our responsibilities at home, and using more collaborative tools to share ideas so we can bring the whole team in. We've evolved at pace and that means we're ready for anything that comes at us.
We had to work some long and unsociable hours in the evening and over weekends to deliver in the time we had. They were exceptional circumstances and it's not something that we could sustain over a long period of time or that we'd be in a hurry to do again.
No ordinary timescale
Usually on a project like this we'd go through a phased approach, from alpha to private beta, public beta and then live, with each stage taking around 2-3 months. This time we had to make decisions about what was critical for the go-live and accept that other things would have to come later.
A lot of that was down to collaboration with other teams such as legal. The legislation was changed to allow us to take online claims. It's been a real exercise in collaborative working, where we had someone embedded in the team responsible for policy from the start. We also had weekly sprint meetings to ensure everyone is up to date on our progress.
We went live on 6 May and we've continued to learn and develop the project since then. We've used surveys, analytics, user interviews and prototype testing in order to find pain points that we need to address.
The launch was just the beginning. We still have a lot more work to do to make the service smarter and more usable. There were decisions we would have made differently if we had more time, and now that we have that time we're continuing to improve things in each sprint.
The survey feedback in particular is really important for us. We are listening and the more people mention something the more we'll focus on it. We'll then target our user research to find out more about the issue in order to find a solution.
Long term we know this is just one part of the puzzle, and there's a lot more to do to get money to the people who need it, to build a complete end-to-end service.
As it stands over 50% of claims are coming through the new online service, and internally we know it's helping our service delivery staff who are working from home. That wasn't originally part of the problem we were tasked with solving, but it's great that we're offering them an opportunity to get back to some sort of normality.
The following quotes come from some of our DWP Pension Credit advisors who were the first to use the new online service, and I think they highlight the impact that the new online Pension Credit application service has had.
Robi Islam - Central Workflow Team in Dundee Pension Centre:
"It's very exciting to be involved with this project. The process could really make a massive difference to some of our most vulnerable customers and save them very valuable time.
"Having received and uploaded the first claim only hours after the service had gone live, I can see that the service is going to be invaluable. It appears to be a very simple system for customers to use and also very simple for me to do my part!"