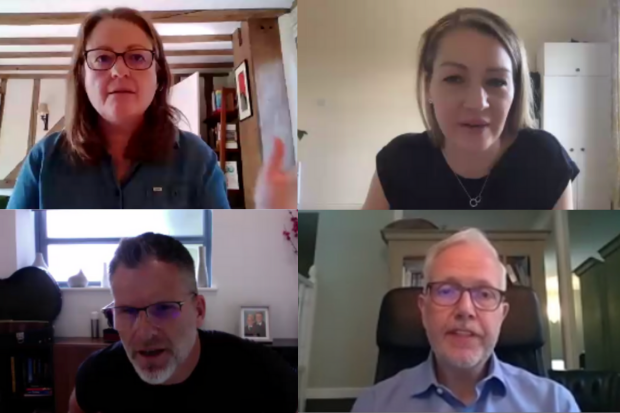 Considered to be one of the annual flagship public services conferences, techUK's Smarter State event went virtual this week, and I was delighted to be invited to take part in the headline panel discussion on the opening day.
Joining the Home Office's Chief Digital, Data and Technology Officer Joanne Davinson and the former Chief Digital and Information Officer for HMRC Mark Denney for the round table discussion, we enjoyed a lively chat centred around how each of our departments had responded to COVID-19 and the impact it may have on our future ways of working.
I took the opportunity to highlight the scale of the work carried out by DWP, which involved distributing more than 40,000 devices to colleagues so they could continue to deliver services from home. I joked that our offices were more like a branch of PC World at the time with all the equipment we were distributing, but it's had a fantastic impact.
We also tripled the capacity of our Virtual Private Network (VPN) to enable those colleagues to connect to our servers. We moved from around 6,000 staff working from home to over 32,000 now on average.
The panel discussion was also an opportunity to recognise the collaboration with other government departments. For example, HMRC have helped us to verify the identity of over 250,000 people remotely, removing the need for a face-to-face meeting.
Accelerating new services
All this work allowed us to develop new services for citizens at pace and at scale. The remote verification mentioned above was achieved using Confirm Your Identity, a new service launched in April that has helped us verify 55% of customer identities remotely.
Projects that would've taken over a year to implement in what we previously considered a normal environment have instead taken a matter of weeks. We've deployed around 6,500 changes to the DWP environment in this period, including updates to existing services and the deployment of completely new projects such as online applications for Pension Credit.
We've gone faster and further than we ever expected, and it's helped to break down barriers. We're still ensuring that all our services comply with the Digital Service Standards, but the pace and agility we've shown will certainly impact how we work going forward.
How other departments are working
It was interesting to hear about the experiences of the other departments during the techUK panel discussion. HMRC had a similar experience to our own department, where they were able to deliver projects in two to three weeks by what he described as a ruthless focus on the needs of the user.
One interesting difference for HMRC noted by Mark was that they had to pivot from collecting to providing payments through schemes such as the support for businesses and self-employed people, plus the Eat Out to Help Out campaign.
Joanne Davinson made the point that her department was not impacted in the same way, as the number of people travelling was reduced so significantly. Instead, it offered the Home Office a chance to look at how infrastructure could be digitised and modernised in order to make the most of some future opportunities.
The topic of collaboration across departments was mentioned during the panel discussion, and in particular the issue of how we share data.
We are currently sharing data and connecting where necessary, but there's certainly more that could be done in this area. There's lots of different approaches on how we share data at the moment, so the idea suggested by Joanne of a set of standards we could apply to this area is an interesting one.
Looking forward
Legacy systems and where they fit into our plans for the future was an interesting discussion during the techUK panel. Our own department has plenty of services that need modernisation, but that needs to be balanced with consideration of the costs involved and ensuring that our services aren't impacted by any changes made.
Our department is taking a strategic view on this, and we're putting a stranglehold on any changes to these legacy products. Our current spending review has a key feature about removing technical debt and transforming our estate in order to modernise.
Looking ahead, our key priorities for 2021 are going to be using the lessons we've learnt from the COVID -19 recession and the challenges it continues to bring.
DWP Digital is adopting an iterative approach to understanding its future ways of working. The long-term vision will be based on feedback from teams about what's working, what isn't, what could be better and how we can resolve issues.