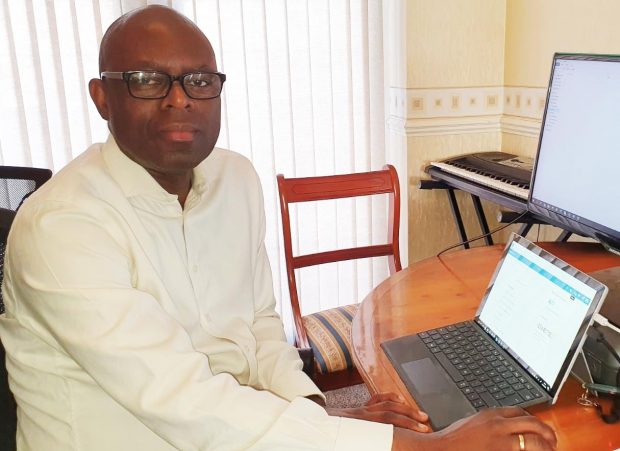 I joined DWP Digital in June 2020 during the coronavirus (COVID-19) lockdown. I applied because I wanted to be part of the team that is helping people during difficult circumstances. The impact of DWP's work is reflected in the lives of its customers and I wanted to be a part of that positive change. I feel my role contributes to the overall goal of the organisation: the betterment of the society.
Misconceptions of working in government
Prior to joining I was told that DWP is huge and slow, with obsolete systems. It gave me incorrect preconceptions that I've found not to be true. In fact, my experience so far is that DWP is nimble on its feet with up-to-date state of the art equipment.
I've been working remotely from home with no issues. I'm able to log onto DWP systems, attend meetings and collaborate with colleagues without any hindrance. Team meetings are happening seamlessly and team work has been great, with colleagues available to provide help and assistance when I've needed it.
My experience so far is that DWP demonstrates how agile project delivery should be practised.
I've had a really welcoming start where I've felt included and valued, so I wanted to share my experiences so far to coincide with National Inclusion Week.
An inclusive environment
I'm a black British citizen who was born in Nigeria. I like the fact that DWP is focused on its people agenda, especially as it involves Black, Asian and Ethnic Minority (BAME) people. There are clear policies in place to ensure every employee is recognised for who they are. There is also a conscious effort visible to ensure BAME colleagues are provided and assisted with opportunities to grow their careers.
DWP has a zero tolerance policy on racism, and in the wake of Black Lives Matter has set up an anti-racism hub to help support its commitment to developing a culture of anti-racism across the department. I think the anti-racism hub is a good initiative in the fight against racism and I'll be interested in insights gained from any incidents reported and how they've been handled. This will help reassure colleagues that it's not just a reactive activity but a commitment to ensure racism has no place in our organisation.
Celebrating Black History Month
As well as being National Inclusion Week, it's also the start of Black History Month - a time that's set aside to recognise the contributions made by people of African and Caribbean descent to the development of our society. This is a moment to be proud, as it shows where people of black descent have contributed and can and will continue to contribute to society.
I think role models are really important because it's good to see somebody who looks like you that you can aspire to, for example, Anthony Joshua, OBE. He's a British professional boxer, 2-time unified heavyweight champion, having held the WBA, IBF, WBO, and IBO titles since December 2019 and previously between 2016 and June 2019. I think he's a great example of resilience and never giving up. He's achieved a lot in his chosen field despite his background and challenges while growing up. And despite his achievement he remains humble and down to earth.
Advocating inclusion
On the surface, there's a lot of effort being put in place across society to ensure inclusivity but if you dig deeper there's still a lot more that needs to be done to ensure everyone is valued in spite of their skin colour, social status, religious belief, sexual orientation etc.
So I'm making time to be an advocate and to represent DWP both in the organisation and wider society. I want to see more BAME colleagues who feel empowered and encouraged to tell people in their circle of opportunity to join the organisation.
Every person matters
DWP Digital are looking for diverse people to join it's teams, if you want to work in an organisation that cares about it's people have a look at our Careers website for the latest job opportunities.