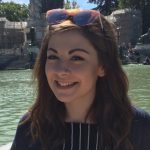 Becky Lee, interaction designer, DWP Digital
Becky Lee talks about helping to mentor local interaction design students in Newcastle and what she took away from it.
I'm Becky Lee, an Interaction Designer at DWP Digital. I'm really interested in the digital industry's current thinking on user experience, which is why, a few weeks ago, I went to the Northern User Experience (NUX) 6 conference in Manchester.
Hi, I'm Becky Lee, an interaction designer working on Get your State Pension in Newcastle. The service is currently in private beta so we're inviting select users to use it as they approach State Pension age.