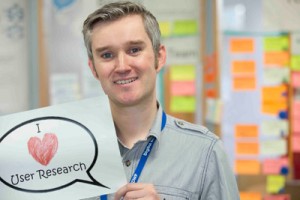 I'm Chris Beardsell and I've been working as a User Researcher in DWP for a bit under 1 year – but what brought me here?
I'm constantly, endlessly, irritatingly curious about users. I want to know what makes them tick, what online services they use, what's in their head when they think about using a government service.
Users are fascinating and I want to understand more about their needs – they don't always think like me or the organisation, they don't act the way I might expect, they want different things to meet their needs, not my or the organisation's needs.
So how do I satisfy my curiosity? I devise different research strategies, depending on the users or the service that's being designed. I might use focus groups, maybe a questionnaire, maybe bring users into user testing laboratory conditions to explore them in more detail.
And then there's the analysis of what I find. Actually, I like that as much as I like the curiosity.
I analyse the results, identify trends, feed these into the development work for the team to come up with prototypes.
But I don't work alone – I might sound like an introvert (if anything I'm an extrovert, but let's not get into labels…) – but collaborating with everyone in the agile team is a real buzz. All the user research in the world is worthless unless I can communicate the insights so that the team gets a strong and shared understanding of the user.
The user research will define the design and development of services from early stage concept and prototypes through to building alphas and betas.
But why did I indulge my curiosity as a user researcher in DWP? It's so I can make a difference.
Every day, DWP helps almost 10,000 people move off Jobseeker's Allowance. Every year, DWP takes 4m job vacancies for 330,000 employers and processes 7.35m benefit claims.
In 12 months DWP will collect or arrange over £1.2bn of child maintenance on behalf of 900,000 children. And pay 22m customers £165bn in benefits and pensions.
Think of all those users – we're designing and delivering public services that millions of people rely on. We transform lives by helping the most disadvantaged people to turn their lives around.
Right now, it's a great place to be a user researcher.