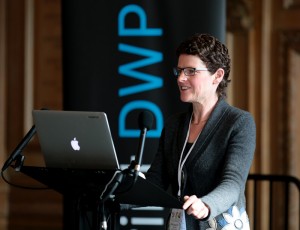 I'm Michelle Dyson, Director in the Business Transformation Group. I'm responsible for wide-ranging aspects of our transformation, including designing what the future DWP is going to look like and how we get there.
Why do we have to transform? Because the expectations of our customers are increasing all the time. They (and we – we are all likely to be DWP customers during our lifetimes) expect to be able to interact with public services as they interact with all other services. And because we expect continued pressure to cut costs.
If we get it right, transformation should help us to both improve customer service and to cut costs.
We have a vision for what a transformed DWP should look like. We also now have a high-level roadmap showing us the milestones that will take us to our vision. Like a Rubik's cube, our roadmap has different cuts of our transformation. One cut shows the milestones of our key transformation programmes. Another cut, for example, measures our progress in delivering on the enablers for our transformation, or pillars on which our transformation is built, eg intelligent use of data.
This week, we're holding a SPRINT DWP event to share the vision for the future DWP, and bring together some of the people who will play a part in transforming the department. We'll turn the spotlight on our roadmap, and on the flagship and lesser-known services that contribute to it, and demonstrate that we are on the journey to achieving our vision. Still a long way to go, but very real and tangible progress.
We can't do transformation on our own. We need ambassadors across DWP to make it happen. Ambassadors to talk about transformation, to bring it to life in their teams, to spot opportunities for further transformation, to spot opportunities for join up including across government, and to be creative in removing barriers.
SPRINT DWP. A great opportunity to demonstrate what we have achieved, inspire confidence in the next stages of our transformation and engage people in delivering it.