The Cross Government Design meeting took place recently, with more than 60 people gathering at Digital DWP.
This was the 9th gathering of designers from across government, along with designers from the Government Digital Service (GDS). It was also the first time the meeting had been organised outside London so we were really happy to host the event and welcome everyone to visit our transformation hub in Leeds.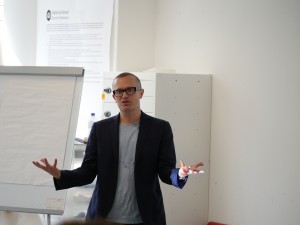 Ben Terrett, Director of Design at GDS, opened the meeting, reflecting on how far the Design Community had come in a few years, and how designing services around users' needs is now at the forefront of every department's approach.
In a series of updates from the Heads of Design, several departments talked about their challenges and the need to embed design in how their department delivers services and policy. The common themes were:
the need to build design capability, grow the skills in the Civil Service and recruit new designers into departments
embedding design into early conversations about service delivery, and the role of design in improving services
the importance of working in the open and sharing design patterns, standards, and ways of working across Government departments.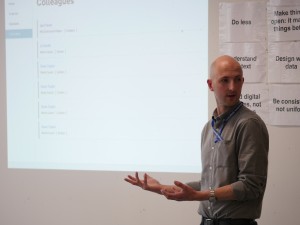 In the afternoon, we heard about design in HMRC and MOJ.
First up, Pietro Desiato, Guy Tristram, and Katy Beale from the HMRC payments team showed us the service design improvements that have made it much simpler, clearer, and faster to make payments for self assessment – during a question and answer session Caroline Jarrett went as far as to say this is now her favourite form of all time.
Next up, Kell Matheson and Ana Cecilia Santos from MOJ Digital talked through their work on 'Help with Fees' – you can read more in Ana's blog post Helping people with court fees.
To finish the day we had a guest speaker, Adrian McEwen, co-founder of DoESLiverpool, a community of makers, entrepreneurs and change makers.
The feeling was that this was the best Cross Government Design meeting yet. I hope to welcome everyone back to Leeds at some point next year. It was also great that our Director General, Kevin Cunnington, was able to spend some time with us during the afternoon – as Ben said, it's great to see this senior support for the design community in Government.
Get involved
If you're a designer already working in Government, get involved. Your design community really does need you.
Cross Government Design meetings happen every 6 weeks, while our DWP Design community and User Experience team meets every month. Contact me to find out more.