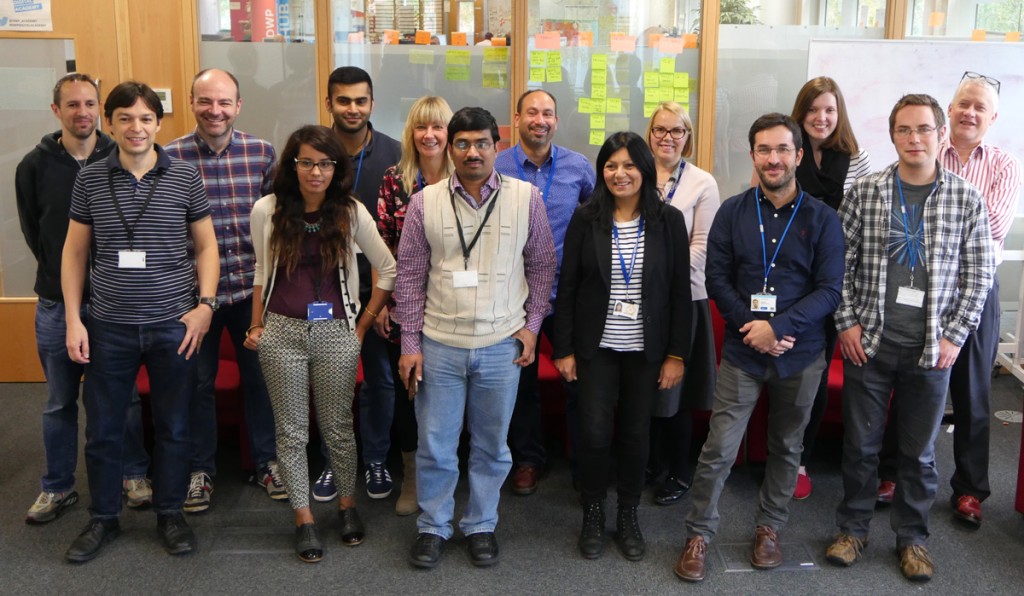 The Personal Independence Payment (PIP) digital claim went into private beta on 6 October. Although we're not taking real claims yet, it means that some potential users can see what we've been building.
If you would like to volunteer to take part in testing the private beta, please email us at pip.onlineclaim@dwp.gsi.gov.uk.
We've worked with over 90 people with health conditions or disabilities to make sure we're creating something that meets users' needs. Users can go through the digital claim in their own time, on their own equipment, and see what works for them. Before we take a real claim, we'll use the feedback from the private beta to make the service better.
It's been a team effort, involving different roles and skills and we wanted to give some insight into how the team fits together.
Product Owner, Mel
This is an exciting time! We'll get direct feedback from users and be able to use this to make improvements to the product. As product owner I want to make sure that we've released a product that meets users' needs and this is the way to do that. This next phase is key to helping us shape the digital claim into something that will really make a difference to people's lives.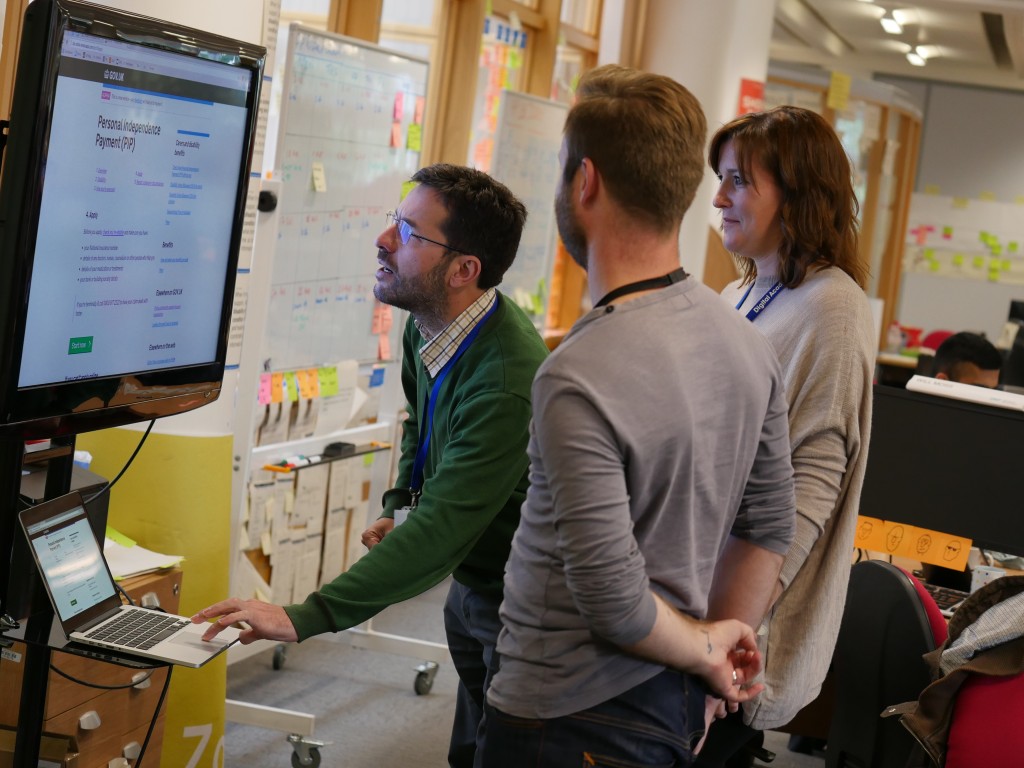 User Researchers, Claudio and Simon
Our biggest challenge has been making sure the service meets the needs of people across a wide range of health conditions and disabilities. With the help of many organisations and charities, we've conducted in-depth research, service-testing sessions and visited people in their homes.
Private beta allows people to complete the claim in a more natural context, without having us peering over their shoulder. We'll use analytics and qualitative data to build better designs that we'll continue to test.
Content Designer, Joanne
My role is to design the content in the digital claim. We need to know about people's quality of life - information that's hard to draw out with closed questions that require a 'yes' or 'no' answer. Because of the range and complexity of health conditions, our users want to tell their own story. It's been a big challenge to design questions in a way that allows users to do this and still give us the information we need to make a decision.
We know there is more to do. Some questions work better for certain conditions, some aren't eliciting enough information and some risk misinterpretation. Getting realistic information and feedback from potential PIP users will be invaluable - finding out what pages users are spending the most time on, if and where they're dropping out of the digital journey will contribute to a simpler, faster service.
Digital Performance Analyst, Yannis
We've designed the service so that users can save and return to their claim. This means that the data collection to measure the digital performance is very advanced.
Being in private beta means we can collect and analyse real data generated by user activity – how they progress through their digital journey, how long it takes them to complete a question, what device they use to complete the claim. We can see what works well – and what not so well – and we can make decisions that will benefit users.
Assisted Digital Lead, Siju
We need to make sure the service meets the needs of people who aren't able to complete a digital claim without help.
Now we're asking real users to test the service, we've made sure support is there if they need it - and we've already had our first user complete a test claim using this support. What we offer will evolve as we learn from helping real people. And we're sharing what we learn across DWP and with colleagues across government.
Apprentice, Emily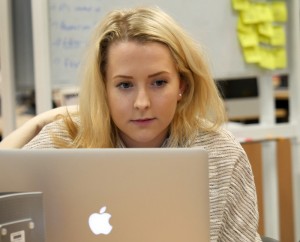 I coordinated the recruitment for the users in this first wave of private beta. I'm excited to see how the insight they give can help us make the service better for our users.
I'm also learning a lot from the team about agile delivery and transformation.
Business Analysts, Laura and Tracey
We  make sure that the user needs we gather are reflected in the stories we develop, and that we have the supporting information required to help our product owner prioritise stories and features to include in each sprint or release.
We work with colleagues across the business to understand internal and supplier processes and requirements, and work closely with the developers to understand the impacts of different ways we might build each feature. Based on this we can make sure there are no 'gaps' in our service, and develop acceptance criteria for each story so that we 'build the right thing' for the user and also that we 'build it right'.
Our role is also to make sure that the new way that we're asking questions allows us to make quality decisions about each PIP claim as well as tackle some of the policy challenges we face, such as how we capture the date when the claim is made and why we gather certain data. The digital atmosphere is a refreshing change; there's a spirit of working together to get the work done.  It's fast-paced and exciting.
PIP Case Manager, Joe
It's my job to assess whether the user has included enough information in their claim for us to make a decision.  This makes the claim easier for the user as we don't have to ask them for further information. It also helps that we are joined by colleagues from our Healthcare Providers (Atos and Capita) who can take a view on how well they could assess the information received as well as share their experience so we can make further improvements to the questions we ask.
Developers, Joe, Chaitan and Gup
As well as the challenging task of developing a usable and accessible user journey, we've also developed a secure environment to build the digital claim service. We've reused many of the design patterns from other digital teams in collaboration with Government Digital Services (GDS).
We've coded over 20 screens, and 250 possible options for the user to answer, a document generator that collates the answers so they can be assessed, and a 'check and change' screen for users to edit their answers and other technical features.
Technical Architect, Mark
During development, we often refer to the DWP 'Digital Blueprint' – a high-level document which offers guidance to digital teams on how to build online services.  My role is to ensure that the service meets the technical guidelines and constraints, and integrates with back-end systems. This has involved joining up conversations across disparate teams, the department and external suppliers.
We now use 'server side code' which allows the service to be used by users irrespective of how modern or up-to-date their computer, tablet or phone may be. This approach is also being adopted by a number of other digital projects.
Integration Delivery Manager, Vicky
My role is to deliver the digital claim service into the operational business, without disrupting the existing live service which is running. I closely manage dependencies between our agile delivery and areas around us that use a waterfall project delivery. It involves a lot of stakeholder engagement to overcome the technology challenges of linking digital to core services, we have a number of critical dependencies with existing DWP services and Government's Verify service.
Quality Assurance, Rob
It's my job to make sure that the code we develop actually works, behaves in the way we want it to and meets the acceptance criteria. We've worked hard as a team to set the quality foundations from the outset, supported by extensive testing in operational, security, accessibility, performance, and functional areas. Our regular 3 amigos session supports this – when we bring quality assurance, business analysis and development together.
Agile Coach, Rich
My role is to bring practical agile experience to share. From the outset, the team have worked together to meet users' needs and also try new ways of working. This is a strong indicator of how agile a team is – when they are happy to iterate to make the 'thing' better, and also iterate they way they work.  This is a big achievement in their agile journey too.
Service Manager, Anita
Delivering a digital claim alongside an existing live service brings many challenges, not least how we manage differences in the claim rules. As part of designing the PIP digital claim, we're reusing and sharing coding and design patterns, staying close to the work on identity verification, and leading work to develop options for people who need help to use the digital claim. It's important we learn from other digital services too and ask them how they have tackled specific design or policy issues.
Since forming in February, the team has evolved and now has a rich mix of experience and capability, using agile ways of working to deliver the service. Being located in the Leeds Transformation Hub means that we can share this easily and help grow the digital community.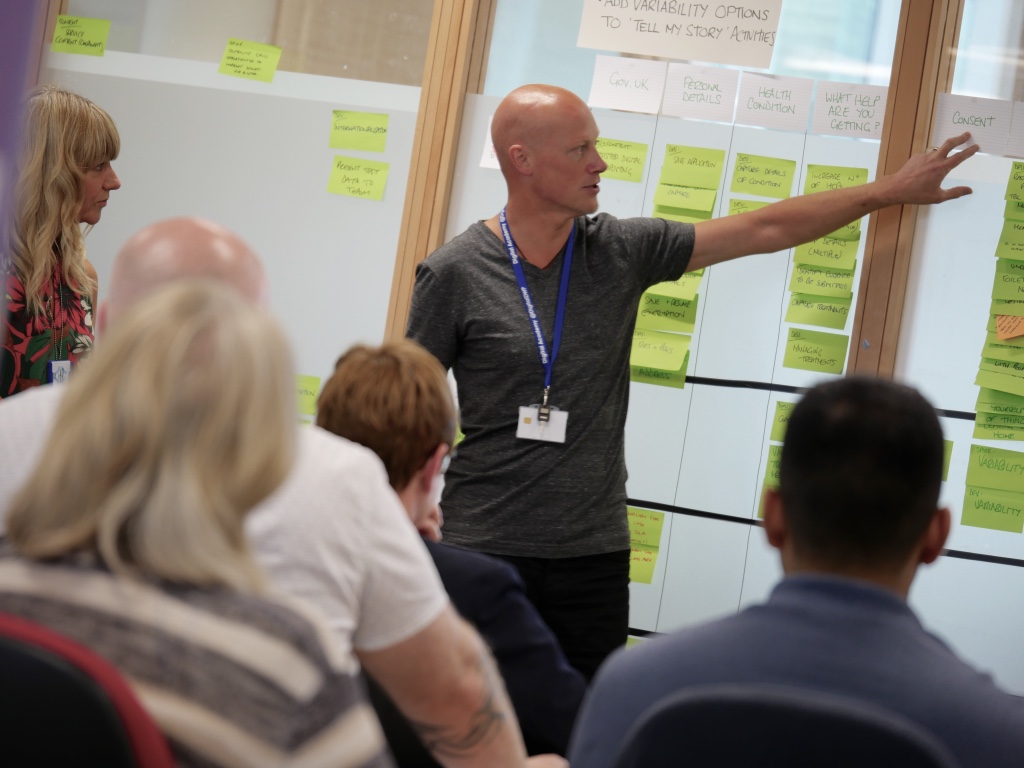 Delivery Manager, Steve
Now that we're getting real data from people who are using the service, we need to make sure we have the capacity and capability to work at pace to evaluate feedback, analyse data, make changes quickly and get the digital service back out in front of users.
We're also addressing the refinements that are already in our 'to do' list. We're prioritising and building these where we can, whilst balancing the invaluable insight that we're getting from our users.
Thank you
A massive thank you to the people and organisations, too many to mention, who have helped us along the way. We couldn't have got this far without you.