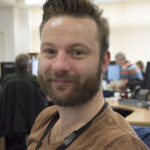 My name is Simon and I'm the user researcher on the Personal Independence Payment (PIP) Digital project. It's my job to make sure the team is fully aware and appreciative of who our users are.
As Leisa Reichelt wrote recently:
"You are not your user and you cannot think like a user unless you're meeting users regularly"
Our users aren't 'just' statistics either:
They aren't 'just' one of several 100,000 PIP claimants
They aren't 'just' one of the 11 million people in the UK with a long term health condition or disability
They aren't 'just' in a family where 21% of children in families with at least one disabled member are in poverty.
Meeting user needs during user testing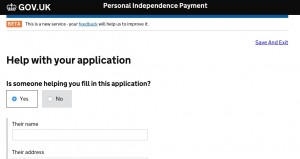 When we're designing services that meet the needs of DWP's customers, we meet our users regularly. For PIP, we take extra steps to give our users the right level of support when we invite them to test our services. Our users may need to bring a carer or family member; they might need to take breaks during a user testing session; our users might need to test the service with assistive software or on their own devices; and they may prefer us to work with charities who are already supporting them, or for us to visit them in their own home – we're able to meet all these needs.
Understanding our users' lives
Our users are real people, with real lives, families, friends and goals. They are John. I met John and his daughter recently at a user research session. John gave me permission to tell his story and when he saw this blog he said "I'm amazed at how well you've captured my story".
John is 59 and a father and grandfather. John used to be a goalkeeper in a football league club in his youth. In one game, John saved two penalties for the youth team. The opposition striker wasn't best pleased and kicked him in the back, bursting two of his vertebrae. This ended his chance to be a professional footballer, and also made it difficult to pursue his second career choice, as a joiner, so he set up a successful business. The injury resulted in the degeneration of his nerves, and he knew it would deteriorate throughout his life. The rheumatoid arthritis he developed in his teens didn't help.
In the last few years this has prevented John from working, he had to sell the business he spent over 20 years building and that he loved being a part of. Selling his business meant he lost the lifestyle he took for granted - John had to get rid of his car, downsize his house and stop taking the holidays that meant so much to him and his wife.
This affected his mental health so much he became irritable and aggressive, he'd have "argued with a brick wall". After his heart attack John realised he needed to get help and was referred to a psychiatrist, who helped a great deal.
John was too proud to apply for Disability Living Allowance (DLA). He was having difficulty coming to terms with the fact that he could no longer do a job he loved and that applying for DLA would be like "admitting and accepting his condition". His wife and his daughter had to apply for him.
He's now concerned that because he loses the feeling in his hands he can't be sure he isn't gripping his grandson's hand too tightly or not tightly enough. John worries that he'll hurt his grandson, or not hold him tightly enough when they're walking near the road.
To quote Leisa again: "needs can be functional things people need to do, for example, to check eligibility. Needs can also be emotional, perhaps people are stressed and anxious and they need reassurance.".
Designing services to meet users' needs
We can use John's story to design a better service. We can find out what he needs to do and then try our best to get out of his way. We can make sure our designers and developers are building a service that John can use. We can work to ensure the language and tone support and reassure John and that the questions we are asking him are clear and transparent.
We know from research that when people are completing an application for PIP they can get tired, or they need to take a break to take some medicine, or they lose concentration. People also want to 'sleep on it', they have a first go at their answers then rework them over several days. And they really want to keep a copy of what they've sent us. Knowing this, we can design a service that considers this and allows people to save their application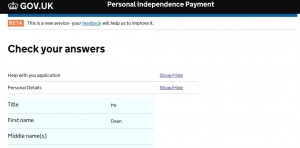 We'll continue to meet our users regularly as we design the PIP digital service. We share our findings with people involved in delivering the service too, to help them to understand John's life and how we need to design a service that helps John and all users to get to their goal quickly and easily.