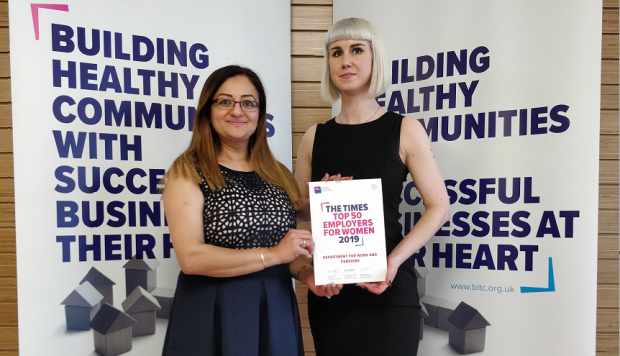 I'm really proud that DWP has been listed in The Times Top 50 Employers of Women.
It's the UK's most highly profiled and well-established listing of employers leading the way on workplace gender equality. It name-checks employers who are sought out by people looking for their first job and looking to move roles later in their career, so it's great to be on the list!
As the gender diversity lead for DWP working for our interim CDIO, Simon McKinnon, I'm absolutely delighted that we have been included. Each year Business in The Community compiles the list and the number of nominations this year was record breaking. So it's testament to our leadership and their commitment to bring about a real cultural shift from the top down. DWP is committed to promoting gender equality. Historically it's an area we've needed to improve in, so I'm delighted that our hard work had paid off and is now making a visible and positive change for our colleagues.
These are some of the reasons I think we are doing so well at improving the gender balance…
We support women in digital roles
I work alongside Sue Griffin, one of our Digital deputy directors. Sue is the senior sponsor of our Women in Digital (WID) network and member of the DWP Gender Steering group. Together, our aim is to increase gender diversity at all grades, particularly female technical subject matter experts, to 30% by 2020.
DWP Digital holds an annual cross-industry Women in Digital event. It positions DWP as digital leaders, and a modern, inclusive employer of women, with exciting career opportunities. In its third year, this year's themes will focus on women moving into leadership roles and returners.
Our key priorities for 2019/20 are achieving better gender parity in each of our digital professions, improving the visibility of women in digital to inspire others to find their voice, and taking practical actions to encourage the next generation. As well as being visible active role models for normalising inclusion.
Ambition is supported
Gender parity at Senior Civil Service (SCS) grade is also a key area for us. Following on from a research piece into what was stopping women from making the jump to senior executive levels, we took action to support colleagues wanting promotion. This included providing places on the Crossing Thresholds programme. The percentage of senior women stood at 39% in 2017 and, today, it's at 44%.
We have consideration for difference
DWP is committed to recruiting a diverse workforce. We pride ourselves in being the organisation where you can bring your whole self to work, and have focused on this over the last couple of years with our internal 'I can be me' campaign. Aimed at colleagues it demonstrates the diversity of our organisation and the opportunities for inclusion.
Everyone has a responsibility to support the equality agenda by upholding the standards put in place by senior leaders – calling out any inappropriate behaviours and taking part in training is essential to fostering an inclusive cultural. This is why our 'I can be me' campaign is so important. It allows open conversations to take place through personal anecdotes – about issues such as gender, caring responsibilities, race, disability status etc. – giving everyone and anyone the platform to become a role model to others.
We have fair and inclusive development and recruitment
We're working with HR colleagues to remove gender bias from our recruitment process. We're trialing new software that uses behavioural science to remove bias and improve predictive validity in hiring – to make it fairer for everybody. We also challenge all-male shortlists at SCS level and have gone back out to market on occasions where the gender diversity of candidates hasn't been great.
Our progression and promotion activities from entry point to more senior levels are tailored to meet the needs of a diverse workforce. Our workforce is 67% female, with a higher percentage of female colleagues at lower levels, reducing with seniority.
In terms of gender progression and in relation to diversity, we also have the Positive Action Pathway programme, open to individuals from minority groups. We also have a number of development programmes some of which are open exclusively to female colleagues. Last year, DWP sponsored over 350 women to attend Women into Leadership events being held across the county to inspire, increase confidence and empower our female colleagues to bring forth change at all grades.
We have enviable benefits
Flexible and agile working is key to our business. Even in customer facing job roles, shift patterns can be agreed with line managers. We have flexible working patterns, which are role modelled by leaders and managers at all grades. And we have roles that can fit around part-time working. Our flexible and part-time working policies may be one of the reasons our workforce is predominantly female, as our flexibility promotes a good work-life balance to blend more easily with family life.
And finally, we are supported from the top. Reflecting on this achievement Simon McKinnon said:
"While it's great to get recognition of all the hard work that DWP has put into championing gender diversity, the real benefit comes from having a more diverse and representative workforce."
Find out more
Hear what our Secretary of State Amber Rudd has to say about our empowering and supportive environment for all women on Twitter. You can follow us @DWPDigital and @DWPDigital Jobs.

If you're interested in working with us check out the latest vacancies on our careers site.