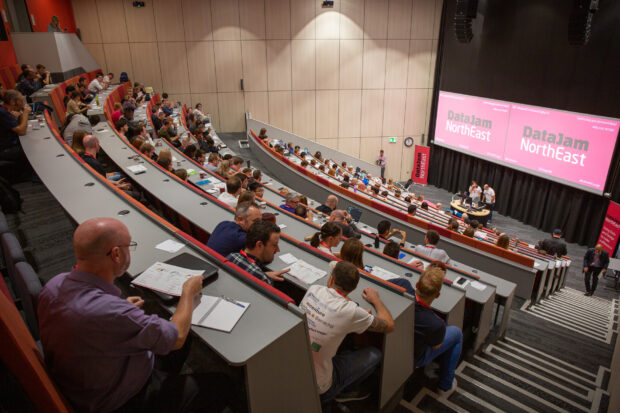 I was not entirely sure what to expect at DataJam. I suspected that if you wanted to go into depth on the subject of data science this would be a great place to do it. But I also hoped that it would be a good place for those with a design background and less technical data knowledge to get involved in something meaningful. I was also aiming to learn a few new skills and take the opportunity to network with other analysts and digital specialists
Why I wanted to attend DataJam
I work as a business analyst in the Digital Health Transformation Project. I'm at the end of a team discovery looking at integrating management information and data across the Digital Health Service. So I decided to go to DataJam to share the challenges and complexity I had encountered in my work with data and to help me understand if there were better ways to work in the future when incorporating huge volumes of data within design.
When I turned up on day one there was a real buzz. I felt welcomed and part of the tribe straight away.
The first major lesson I learnt almost immediately was don't meticulously pre-plan your time there, as you are bound to get drawn into the unexpected. I enjoyed some great key note speeches and finding out more about the huge societal subjects that form the basis of the hacks. It was easy to get carried away and devote my time to working with others developing an idea. The best advice I can give to anyone planning to attending DataJam is not to feel daunted and just get stuck in.
My DataJam experience
We were encouraged to submit subjects to form some unconferenced session. I posted the question 'How can we consider data better in the software design process', little knowing that I would then have to present the session! This turned out to be a blessing in disguise as I came out of the session armed with lots of great actionable advice. I was left feeling energised and fearless, ready to to get stuck in at the very heart of the event. I went straight into one of several hacks taking place. The idea was that you could move seamlessly from hack to hack, unconference to unconference or session to session. I found myself I was drawn to one particular issue and spent all of my time with a varying sized team of other DataJam'ers trying understand and tackle the issues.
The hack spread over 2 days. In that time our team moved from defining a problem statement to delivering a presentation including a prototype.
During the 2 days, working alongside data specialists something almost magical happened.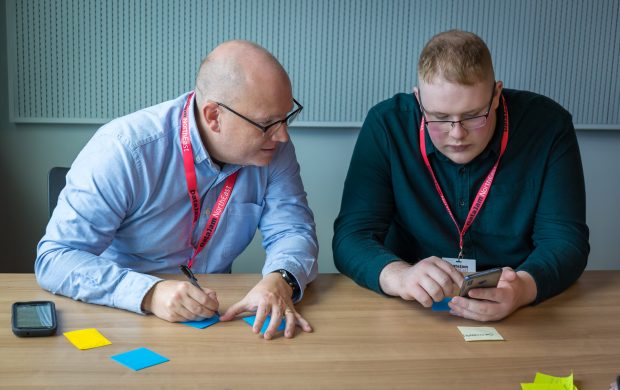 In the early stages most of the progress came from those with a design background. User researchers, user experience specialists, interaction designers and business analysts worked together. We were quite rigorous about defining the problem statement and working to articulate assumptions and hypothesis. This was very collaborative and we were able to make some quick decisions about how to create something that delivered value for the end user.
Once this had been decided the data specialists we're able to come into their own. They were very quickly able to find, combine and make sense of relevant data sets, it was great to work with people who had vast experience in how to visualise and tell a story with that data. It was at this point at the beginning of day two that we began working seamlessly as a team and really focused on the task. By constantly talking, sharing and clarifying our developing understanding of the problem we had a working prototype within an hour and the data sets were showing patterns and trends which supported where our research and focus should continue to concentrate. There was an openness to creatively sharing knowledge and adapting what worked to get the job done.
The end results
At the end of the hack we presented back to everyone at DataJam knowing we had created something really meaningful. I felt a real sense of achievement. I've always enjoyed using Excel and coding as a hobby but I now feel inspired to learn R to develop my skill set further in my business analyst role. I would recommend DataJam to anyone wanting to understand more about the vast potential that data provides if used in the right way. I left DataJam on a high with new contacts and a new found respect for data science and the role of data driven design.
Find out more
We're involved with so many exiting events, from DataJam to our annual Women in Digital conference and don't miss our next Hack the North event - it's back in November. To get involved and join in follow us @DWPDigital and @DWPDigitalJobs.