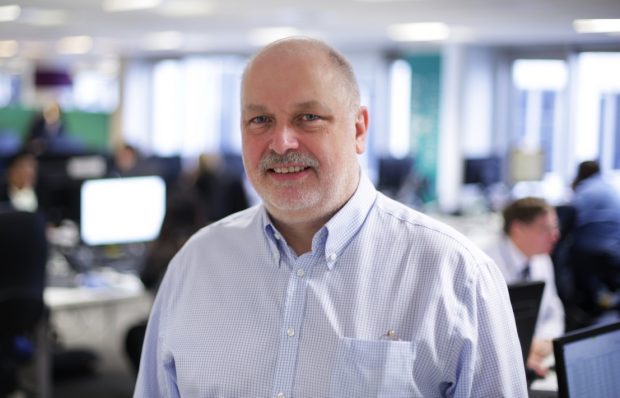 Here at DWP Digital we believe that diverse teams, which reflect the society we serve, provide greater depth of background and experience leading to more creativity and innovation. This means we can deliver better products and services to our customers.
Women are still under-represented in digital and tech roles so we've made a firm commitment to redress the gender balance.
Commitment to gender parity
We're not just talking about it. We've now signed up to the Tech Talent Charter, a visible pledge to do better to reflect the diversity of the population in our tech workforce. It's estimated that only 27% of digital roles are held by women. So we are committed to redressing the gender balance.
One of the ways we are doing this is by creating an inclusive workplace that is attractive to female talent by having more visible role models. So in DWP Digital we've developed a programme called Digital Voices, a ground-breaking programme designed to help women develop their digital skills knowledge.
And we are having success in increasing female representation across the organisation. In fact, last year women formed 35% of our new digital recruits, which is great progress.
In recruitment, we've just completed the Be Applied pilot, which removes unconscious bias from the recruitment process. We've delivered 6 campaigns so far with females comprising 25% of applicants and 50% of hires.
Overall the percentage of females who've gone through the process has been encouraging and an improvement on non Be Applied averages. As part of the pilot, we're also trialling a new approach to gender decoding job adverts. If successful, we'll commit funding to a more sophisticated version which will provide functionality like gendered language detection, a bias-free review process anonymising applications and we'll will be able to see real time data on the diversity performance of our roles.
All the current research shows that to attract more women to roles in the tech industry, and particularly into leadership roles, we need to do more to help them develop a broad skills set - one that includes not just technical skills like coding but also engagement, leadership and confidence.
Digital Voices
Digital Voices aims to build confidence and engagement skills for women to become confident at presenting, networking, taking a lead role at an event and in telling the story of their work and DWP Digital's work. The programme lead, Joanne Rewcastle has a team of Digital Engagement specialists with the skills to support the women on the programme in getting their story out there. There are lots of technical and career learning opportunities available in tech but less on how to improve women's confidence and engagement skills. Joanne and her team's work is helping more women to be visible role models.
The programme's success has been recognised across government. For example, this summer members of the Digital Voices cohort joined a panel discussion of senior leaders at Civil Service Live events across the UK talking about automation and the use of robots to improve services. And, the programme has been shortlisted in this year's Civil Service Diversity and Inclusion awards, making it to 1 of 5 shortlisted nominations from competition of more than 200 submissions. We'll find out later this month if we win, but either way I'm immensely proud of the progress this programme has made.
Relatable role models
As I write, it's worth noting that this month we celebrate Ada Lovelace day. Ada is considered to have written instructions for the first computer programme. She was the first to inspire many and, following in her footsteps, we're producing our own role models to inspire women to want to work in digital.
For example, Rashmi, a technical architect in our Sheffield hub has been working as a voluntary mentor to secondary school students. In a recent DWP Digital blog post, she talks about the challenge of motivating students to have a greater interest in tech subjects.
And our Deputy Director for Identity and Trust, Cheryl, who is passionate about getting more women into the sector. At our annual Women in Digital event in June, Cheryl spoke about her personal experiences of being a woman in a digital leadership role and the challenges of returning to the sector after a period away from work. She told the event that by standing up and being visibly proud to say 'I did that!' we hope to inspire more females into tech roles and show that DWP Digital is an attractive place to work. We work on some of the most important projects in the UK right now and get to be innovative and genuinely excited by what we do. Our people have overwhelming support to be themselves and bring their whole selves to work - that's incredibly empowering.
As an organisation we will continue to champion diversity, in all its forms. We no longer look at minority characteristics in isolation but through an intersectionality lens. We're working to ensure we have a workforce that reflects the society it serves. We recognise there is still work to do and also that we cannot do this alone. Diversity is something all tech firms should be working to achieve.
Find out more
Colleagues are sharing their STEM role models on our social media accounts to celebrate Ada Lovelace, follow us  @DWPDigital and @DWPDigitalJobs, and on LinkedIn and join the conversation. We're recruiting and we want diverse people to join our teams, have a look at our careers website for the opportunities available right now.