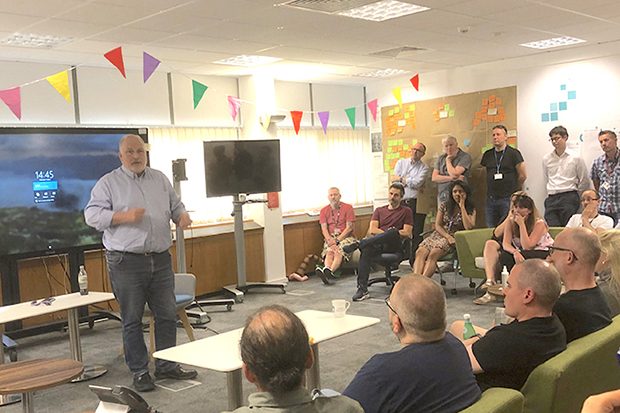 We're about to bring 900 of our colleagues together to hear more about our transformation ambitions. I shared some of these when I spoke at techUK Building a Smarter State a few weeks ago.
Transformation is not new to us at DWP Digital. We have already started to change our internal culture and work collaboratively across the rest of DWP.
We're continuing to build on the strong foundations we've been delivering for the last few years. But it's time to go further. My ambitions are for us to increase the pace and scale of our digitalisation by being truly user centred in our approach.
Improving the user and agent experience
I want us to improve the user experience so that people can access the support they need without needing to know what part of the department or even government provides it. Easier access for users requires simpler services for our agents to use to deliver that service and help the people who need it most.
The complexity of some of our systems means that our agents are using different systems to do multiple tasks. Improving this experience for our agents will free up more time for caseworkers to help the people who need it most.
Reusability is key
We support more than 100 benefits for customers so finding opportunities for reuse in our work is more important than ever. We want to move to a model where we design once and use again and again, rather than designing lots of similar systems that are not shared.
We need to shift the balance towards the creation of more reusable services with shared capabilities. This could free us up to design radically better services. Continuing our move away from legacy technology will help. As we rebuild new capabilities to replace the old, we can create shareable components so that we can reuse data in real time across product lines.
For example, the Transfer your File service allows local authorities to safely and securely transfer files to us by authenticating end users and reusing technologies, with real time integration of services.
The work will result in decommissioning services provided by third parties, and deliver savings for the NHS. It's a great example of setting API as an architecture, working across government and opening the door for other projects to follow.
Collaborating across government
We've always been keen to work with our digital counterparts across government, such as Home Office, HMRC and Ministry of Justice. Recently, we've been sharing data and building services to enable the devolution of benefit payments to the Scottish Government and access to new services such as the Young Carer Grant and Funeral Expense Payment.
Our Confirm your Identity team is providing identity verification for DWP online services which will enable citizens to confirm they are who they say they are so that they can access the help they need. We're sharing our thinking on identity verification too and collaborating across government on this.
Bringing colleagues together
I've been visiting teams in our six digital hubs over the summer, talking about our priorities and getting their ideas. So I'm excited about bringing colleagues together in October to understand what transformation means for them and share their ideas. I'm excited about our transformation and I know that our teams in DWP Digital will rise to the challenge!
Like this blog? Why not subscribe for more blogs like this? Sign up for email updates whenever new content is posted!