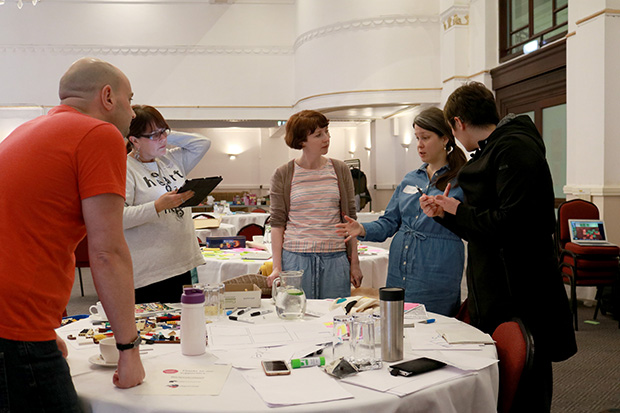 Take 30 participants, a pile of creative supplies, some service design techniques and a secret theme. Mix them together in a Victorian ballroom and give them 48 hours to infuse. What's the result? 4 amazing ideas to transform public services and a load of new friendships.
That was the recipe for the first-ever Blackpool GovJam, on 23–24 October 2019.
What's GovJam? And why Blackpool?
GovJam is an independent, volunteer-run free event that uses design thinking and service design techniques to improve public services in different cities or towns across the world.
GovJam is unique for its global scale and its focus on public services and user needs. All GovJam events take place in the same week, using a common theme. The Blackpool event was the first GovJam outside of a city in the UK.
Blackpool has 8 of the 10 most deprived neighbourhoods in the UK but there is so much more to this historic town and its people.
We wanted to put Blackpool in lights (get it?) to see if there was an appetite for 'jamming' and for this sort of event in the town. It was an experiment, but a great opportunity to galvanise local interest in public services and build a digital community in Blackpool at the same time.
A number of other DWP colleagues were up for this challenge and helped organise and facilitate the event, including content designers Anne Ramsden and Dan Howarth. We teamed up with colleagues from outside DWP including Lisa Jeffery from GDS and Liz Whitehead from Hippo Digital, one of the sponsors.
What happened?
On the first day, we set everything up at the Winter Gardens and waited for people to arrive. And they did, 30 of them!
People from Blackpool Council, the Service Personnel and Veterans Agency (SPVA), Santander, HeadStart, Blackpool Tech Hub and our very-own DWP, amongst others came along to jam. It was a really good mix of local and national government, as well as small businesses and social enterprises.
First, the organisers of Global GovJam announced the secret theme in a video, and we affinity-sorted our interpretations and self-organised into 4 teams. We went through the five stages of a design sprint—empathise, define, ideate, prototype, test— with the help of some expert facilitation. Jacinta introduced us to service design and prototyping techniques, and Fern Williams from Hippo gave us an overview of user research.
Fortified by pizza, soup and sandwiches, we got to work. We went out into Blackpool to carry out user research, then came back to define the problem. We created prototypes and iterated them, based on further research and testing with members of the public.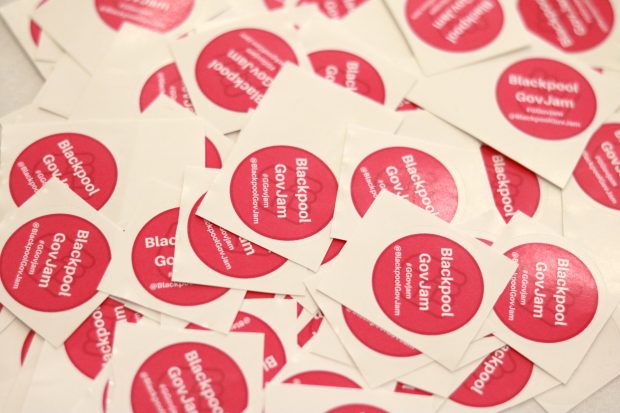 The results
At the end of the 2 days, we presented our prototypes. It's amazing how much the teams managed to achieve in such a short time.
'On the Edge of Brilliance' looked at the process of claiming compensation as a veteran. They removed the worry and complicated steps from the process so that veterans could do it themselves, without the support of a solicitor, and keep all of their money.
'The Includers' looked at the loneliness and isolation that comes from a life event such as losing your driving licence, and how this could be overcome through a directory of services.
'Team Decibel' looked at helping people with sound sensitivities to access events they are currently excluded from, and how they can find a quiet space. 'Team Greta' looked at how people can assess their own personal impact on climate change, and identify micro actions to make improvements.
You can see some of their work on the Global GovJam gallery.
What we learnt
There's a big community of people in Blackpool who are passionate about improving public services, and we barely scratched the surface at GovJam. It's just a matter of framing problems in the right way.
From going out and doing user research around Winter Gardens and Blackpool town centre, we found people who really care about mental health, inclusivity and climate change. It reiterated the need to leave our boardrooms and design studios, and work collaboratively with everyday people to understand problems and come up with solutions.
Jamming teaches us to be comfortable with ambiguity. But it's hard to break free from the safety of being told what to do. If we can support each other through a collaborative design process and build on each other's ideas, we can create something valuable out of nothing. We can use prototypes to test our ideas quickly and cheaply with users, fail fast, learn and iterate.
GovJam is a really inclusive format. Unlike hackathons, you do not need to have technical skills. Unlike conferences, you're not there just to talk or listen. GovJam only asks you to bring an open mind and a willingness to work with other people to start something that could solve real problems.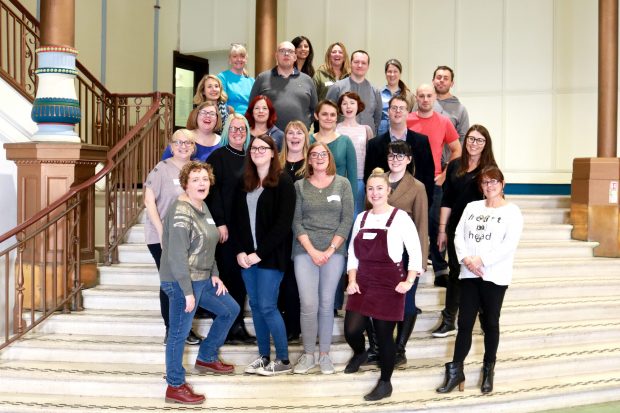 As for the experiment? The response to the first Blackpool GovJam was phenomenal. The sheer number of people who took part and the support we received showed that service design is happening here in Blackpool. One of the attendees, PhD student Laura Wareing said "there was a real energy in the room and it was great an event like this took place in Blackpool and not just in bigger cities."
The majority of our attendees said they would come again, and over half of them said they want to help organise next year. So it looks like it's going to be even bigger. Come and join us in 2020!
Find out more about Blackpool GovJam on the website.