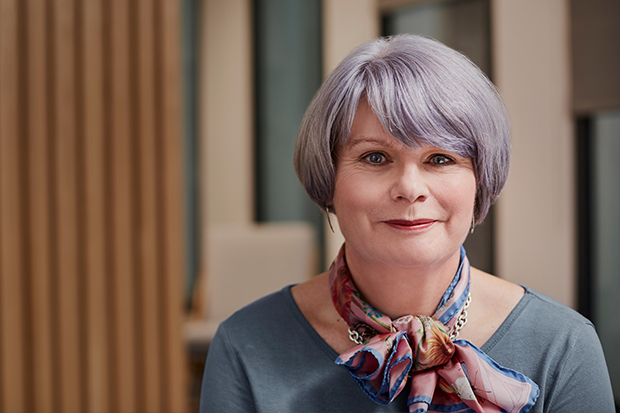 My job is to buy hosting environments for DWP applications, from sourcing the contract through to termination. This covers data centre space, servers, storage and the future of all of our hosting, cloud environments.
Embracing a new role
This was a new job for me in 2015 although I've been with DWP for 28 years. I hate being the new girl but I do love a challenge - it's good for the brain – so at the time I was keen to get stuck into a new role.
Back then I knew nothing about this area of work, but it was perfectly timed as DWP was starting a massive tech migration, from a managed service to in-house delivery.
Luckily I had enough time and support to learn the ropes before being trusted to act as the commercial single point of contact for the Re-Hosting Project team.
While I felt out-of-my-depth for a short while, I was encouraged throughout. I didn't suffer in silence and held my hand up if the tech-heavy discussions lost me. I'm not afraid of asking questions, which meant I was constantly learning new skills right from the beginning.
Team work was key as we collaborated on a hugely complex piece of work the department had never done before. I was positioned right in the middle of key activity working with senior management and business experts.
It was a big responsibility. During the migration I led the commercial work to buy the Re-Hosting team's data centre environments and all of the hardware they needed to build it out. As my skills-base grew I went on to negotiating new cloud environments, which is where all applications were to eventually live.
The new data centres went live on time and DWP now delivers its services entirely out of hybrid cloud environments.
In terms of learning new tech skills, I now understand far more than I knew was possible about IT hardware for data centres and cloud environment requirements. I've learned a lot!
The importance of learning
I moved to my current role in DWP Digital on promotion having gained the academic skills, as well as the practical on-the-job skills, over the years. For progression and personal development, it's important to have both, so I'm grateful to have been given the opportunity to gain these.
For example, I'd studied for a Chartered Institute of Purchasing & Supply (CIPS) foundation degree in 2007 for a previous job. So when I moved into the role there was the opportunity to 'upgrade' to the Masters (MCIPS).
Post CIPS, there are two routes to MCIPS; exam based (10 exams over 2 years) or assignments (4 assignments and a 10,000-word dissertation). I started the exam route but paused my studies when I was too busy with work to juggle both. There has never been any pressure to meet the deadline for this, so when I picked it back up again I decided against the exam route. I hated the pressure and the need to memorise information so I decided to go down the assignment route.
I enjoyed working on the assignments. I found this the most useful route as it was an opportunity to really delve into the detail of the subject – putting together a 3,000-word essay requires you to really understand what you're writing about.
My dissertation was supported by my senior managers who helped me to decide on subject options we would all benefit from finding out more about. I've since shared it with a number of colleagues to review and consider bringing some of my recommendations into our work.
I completed the work last summer and I'm looking forward to the official graduation at Peterborough Cathedral this October.
Join a great team
I love what I do and it helps that I work with a great team of supportive people. We're hiring now and welcome new people to bring fresh ideas and new perspectives.
There are no boring days; we're too busy supporting our hybrid cloud colleagues, working at pace. It's quite the responsibility helping to support the IT system for the government's largest department.
I enjoy that I do something different. I don't want to fit a particular 'box' or be stereotyped, so I challenge myself all of the time.
If you're like me, love a challenge and want to grow your career, have a look at our careers website for the latest job opportunities.