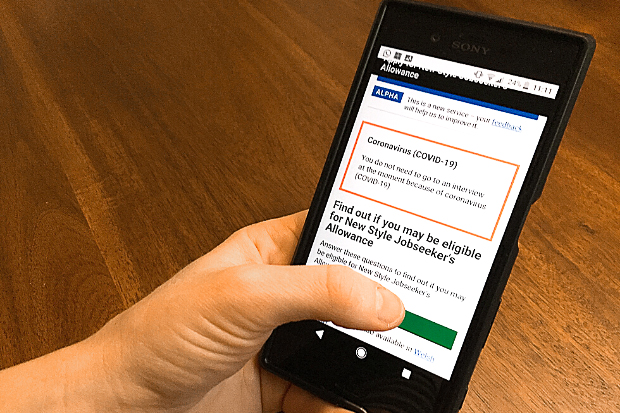 Launching a new service will always bring challenges as part of the process, but it's fair to say that introducing a new service for processing Jobseeker's Allowance (JSA) shortly before the coronavirus impacted has given us more than most!
NS JSA is a fortnightly contribution-based benefit which can be claimed on its own or at the same time as Universal Credit. We never expected that the service would receive over 230,000 claims in just 8 weeks. Thankfully, the New Style JSA has stood up to the significant increase in applicants during this period, meaning people who have been made unemployed during the crisis won't have to wait an unreasonable amount of time for their payments or benefits.
Here's 5 key learnings that the launch of the New Style JSA has confirmed for us:
1. Find the right ways of working
I joined the NS JSA team in October last year, when it was decided that more resource was needed. The team had been working on the project for 18 months prior to that, and one of the first things we had to do was to bring together two teams that had been working separately before, then as a new team formulate a way forward. This required us to look at different ways of working at pace, managing the team's ability to change while staying focused on the project.
Although we were challenging some ways of working, there were no major difficulties in the process. Previously most of the team were based in one location, but we brought in more of a remote team so we had to make sure everyone was included and felt valued, which added a layer of complexity to the whole project. However, that's certainly stood us in good stead for everyone having to working remotely now!
2. Ensure you have the right expertise
When I came onto the team, one of the key priorities was to make sure we had the right people in place. To address the development work that was required and to meet the deadlines that were in place we bolstered the team, bringing in software developers and development ops, plus content designers and service designers to make sure we were compliant with the standards we have to follow.
We also strengthened the product service design team, which helped with ensuring our priorities were evidence based. That helped us to manage the development team to make sure they were working on the right priorities. Disparate teams can be particularly enthusiastic about their own particular areas, so it was important that we had evidence to show us where to focus.
3. Be ready to adapt
The New Style JSA was in the private beta stage in February, where it was dealing with around 10% of new claims. However, the decision was made to fast-track the project, with the NS JSA taking 100% of claims via gov.uk from 13 March.
During the first two weeks the new service was successfully dealing with an average of around 300 JSA claims a day. However, the economic impact of the coronavirus crisis in March meant the service soon saw as many as 15,000 new claims per day.
We had to show that the system was resilient, flexible and could stand up to change. We had to immediately increase the capacity of the service, while also cutting out parts of the process such as the face-to-face interviews that obviously couldn't take place during lockdown.
The impact of coronavirus has only given us more evidence of how quickly we have to adapt.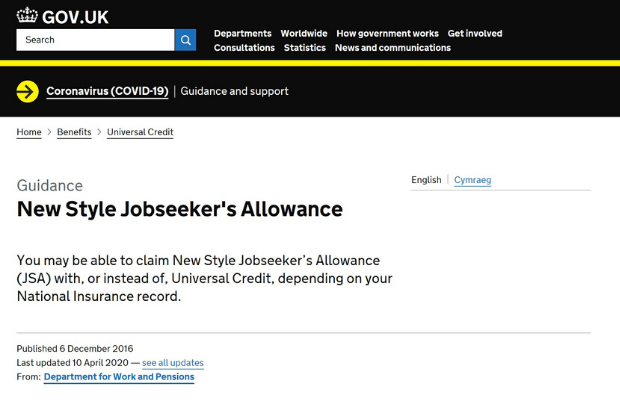 4. It's an ongoing process
The NS JSA has now been processing 100% of new claims for over two months, but it's certainly not the end of the project. Now we're at the stage of consolidating and making sure everything is stable, then we can continue to look for enhancements. There's a roadmap that we're currently updating, which looks at how our service might make the process faster and less intensive for operational colleagues.
Any changes that we want to make to the service have to be built into the live service. That means we can measure the results in a live environment and respond to the user's requirements immediately. Our ethos is to get it live as soon as possible, our ability to respond and get code live is key to what we do.
5. Collaboration is key
The project has involved colleagues from across our Digital, Operations, Policy and Service Planning & Delivery (SP&D) teams. As product manager, it is my role to set the vision of what we ultimately want to deliver and to prioritise what the team will work on over the forthcoming sprints. I'm very proud of how the team have performed, it's an absolute team effort – I set the priorities, but I'm reliant on the service team and our stakeholders to inform me of emerging needs, based on feedback, research and analysis and to develop a solution that will meet the need and improve the customer experience.
It's really pleasing to see from the user research we've conducted and from feedback received through our online customer survey that users tell us that it's an easy to use service, and the satisfaction rating is consistently between 80 – 85%. It's great to know that our service is working to make things easier for our users.  This is an achievement that we are all extremely proud to have been a part of and we will continue to put the user at the centre of everything we do as we iterate the service over the coming months.