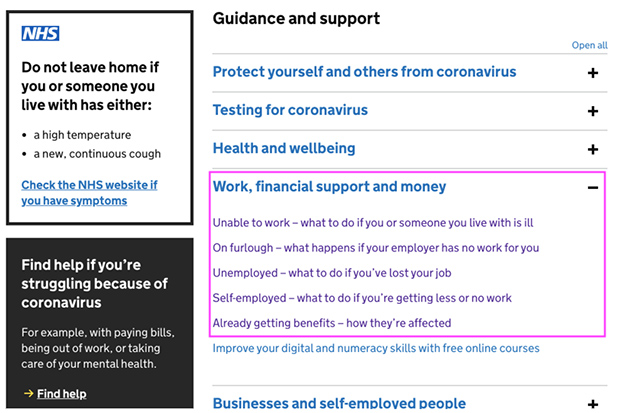 I'm a content designer on the team responsible for all DWP-related content on the GOV.UK website. We have been working swiftly during the COVID-19 outbreak to ensure users can access the latest information.
Under normal circumstances, the Content Design team work alongside the Government Digital Service to manage and improve DWP content across approximately 8,000 pages on GOV.UK, together with colleagues in Policy, Service Design, Service Delivery and Digital.
I've been part of the team for 6 months. It's essential that any content we produce is accurate, user-focused and based on user needs – requirements that are even more essential during a situation that has resulted in significant increases in visitor numbers to our websites.
Responding to user needs
Since the start of the coronavirus outbreak our focus has shifted to 2 key areas – updating the benefit guides on GOV.UK in light of coronavirus-related changes and improving signposting to relevant benefits based on users' situations.
With an influx of new claims and changes for existing claimants, we need to make sure the end-to-end user journey is as clear as possible. We developed 4 guides, which you can find on the GOV.UK coronavirus hub under 'Work, financial support and money'.
The coronavirus hub has been receiving around 25 million page views a week, underlining the importance of the work to deliver correct information in a timely manner. It's an ongoing task, with reviews and user research informing the work as it develops.
The team have been conducting user research wherever possible during the outbreak, which has helped inform us on the correct keywords that users were looking for. We've also conducted regular reviews of the content using analytics and search terms to help us iterate as we go.
The guides we developed for the coronavirus hub are changing regularly as the key information is updated. We're coordinating changes multiple times a week, working with our colleagues across DWP to identify user journey improvements.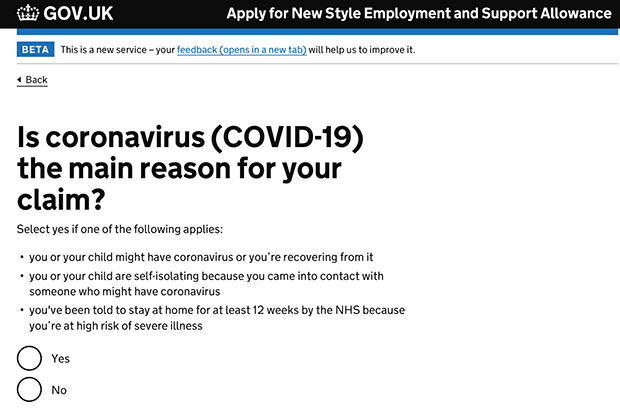 Beyond the coronavirus hub, the Content Design team have been working to:
let Universal Credit claimants know what they need to do during the coronavirus outbreak, so they can continue to receive payments safely
help people understand what financial support they could get during the outbreak – for example, asking about their situation in the Apply for New Style Employment and Support Allowance service
highlight urgent key worker vacancies on the Find a job service
simplify how self-employed people can find out about payments if their income has been affected by the outbreak, by collaborating with HMRC colleagues
Collaboration is key
Collaboration has been central to the success of these projects. Although our teams had been based across DWP's regional hubs before the outbreak, the shift to full-time homeworking has produced additional challenges for our team.
Daily stand-ups and clear procedures for managing our workload has made the change to full-time home working a little easier, but it is difficult not seeing your colleagues on a regular basis. To help with this, we have added in extra chats to check on our welfare, making sure we support each other as much as possible.
It's been a really busy few weeks but having the foundation of a supportive team has made it easier. And it's been great to be part of work that's making a real difference for the people who use DWP's services.