I work as a technical architect in DWP Digital's Sheffield-based Dynamic Trust Hub. However, like most of my colleagues I've been working from home for just over a year now.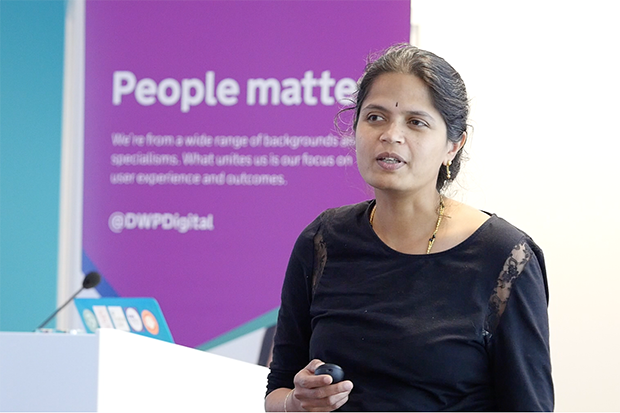 One of the key achievements in the Dynamic Trust Hub in the last 12 months was the launch of our Confirm Your Identity service which we accelerated due to the COVID-19 pandemic. The service helps Universal Credit claimants prove their identity online, without the need to visit a jobcentre, enabling people to stay safe during these uncertain times.
Seeing the bigger picture
As a technical architect, my role is to look at the bigger picture and to design digital solutions that meet user needs and DWP's strategic intents, while adhering to Application Reference Architecture. I also have to ensure that solutions are re-usable and can extend across all customer channels.
Within the identity and trust arena this means enabling users to prove their identity seamlessly.
So at the moment, the Dynamic Trust Hub is involved in the delivery of a telephony identity verification service that will help Personal Independence Payments (PIP) and Employment Support Allowance (ESA) claimants prove their identity when they contact DWP by phone.
This will make a positive difference to claimants, as it'll enable them to find out their next payment date and amount through an automated playback on an Interactive Voice Response system. In turn, this will reduce the amount of telephone queries coming in to the department, freeing up DWP colleagues to help other customers.
We're also working on a solution for people to prove their identity online so that they can access any DWP digital service, which we hope to roll out later this year.
A year like no other
The last year has been a rollercoaster for me. Some days I love the flexibility of working from home. Other days have been quite testing like when I have to multi task as a 'home teacher' for my daughter and share my work space with my husband.
I've also had to learn new ways to collaborate with my colleagues this past 12 months. We're using tools like Mural and Microsoft Teams to collaborate, and it can feel like I'm constantly moving between calls.
However, like the rest of DWP Digital, wellbeing is a huge priority in my team right now. For example, we've committed to blocking a compulsory hour in our diaries for lunch break.
This simple initiative has really made a difference to people's wellbeing as it means we get some time off between meetings. Personally, I always make a point of going on a walk in my lunch break.
Part of a community
Everyone in DWP is part of a professional community of practice.
The Architecture practice consists of technical architects, solutions architects, data architects, security architects and business architects, all working together to deliver the DWP 2022 vision through a digital blueprint. This enables delivery colleagues to architect new digital products and services in a consistent way.
As well as collaboration, being part of the practice offers a lot of opportunity for learning and development. We have access to O'Reilly, Pluralsight, Azure and Garter resources, as well as being able to book other training courses.
Come join us
We're currently recruiting architects in our Blackpool, Manchester and Newcastle hubs. If you want to use your architecture skills to solve some of the country's biggest challenges, whilst working for an employer that prioritises wellbeing and flexibility, take a look on our careers site.