Although I've been told previously that people who have grown up using British Sign Language (BSL) as their first language would struggle with English I hadn't seen it so strikingly as I did in a user research session at East Lancs Deaf Society.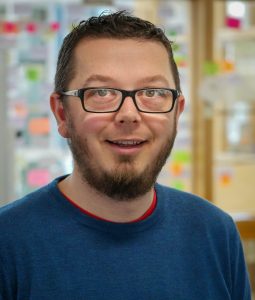 The people we met deal in English every single day in their professional lives, but the approach they take with reading and writing the language reminded me of myself when faced with the written word in any foreign language.
Should I ever have to try to read French, the best I can do is scan the lines for a word or two that I recognise and try to guess some meaning from that.  Thankfully the biggest risk in my adult life of misreading French is probably I order duck instead of chicken.
But if I was given something written in French that I knew was important (a government application form, say) then I very much doubt I'd even have a go. I can't imagine the pressure of trying to work in what is to all intents and purposes, a foreign language.
Failure is normal
While it's a common reading pattern for everyone to seek out familiar words on a page first, the range of words our users recognised was a lot smaller, and the reaction when they didn't find them was understandably extreme.
If they couldn't identify any familiar words at all or the page simply looked too complex to scan (eg, not bulleted), the reader would simply skip the entire page or almost immediately refer it to a BSL interpreter for translation.
Simply put, they expected to fail.
If they did persist, their fears of misunderstanding were often realised. If a question contained a few recognisable words but had an important modifier (for example, a sentence that started with "approximately") the meaning was completely lost, or even reversed.
It's not just in the reading
While we can work on the language of the questions, responding was equally difficult for the group. Three participants were unsure of their own ability to express themselves in English but also were worried about spelling.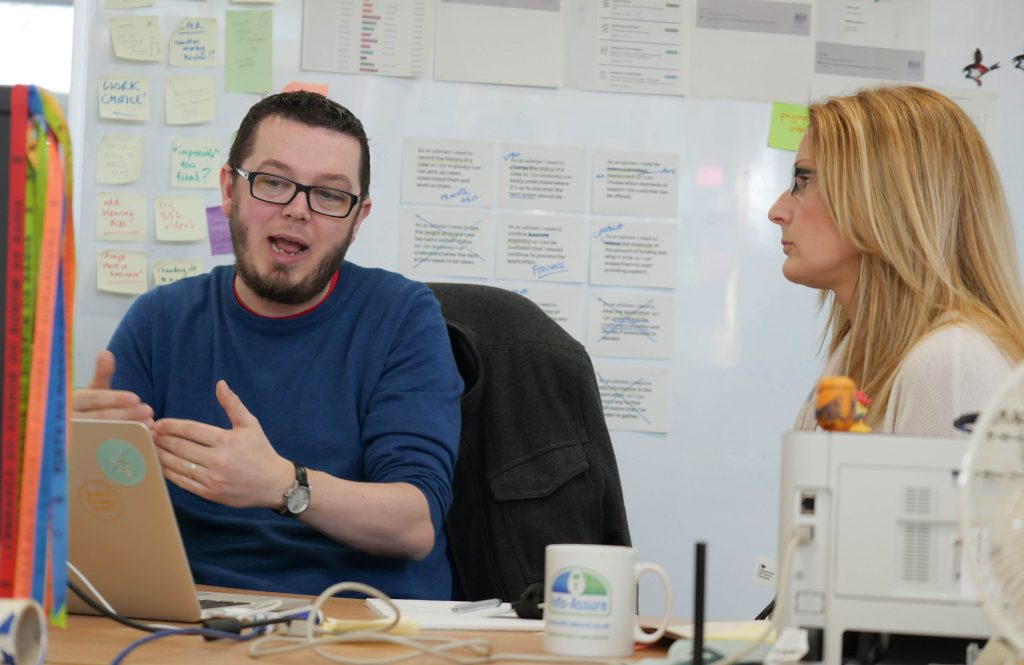 The main fear was that spelling would obscure what they meant, and probably result in more questions. But more seriously the fear was that misspelling would give an impression of stupidity.
Several (particularly the older people) told us stories from their school days, when education failed to take account of their condition to give them the skills they wanted to have in English reading and comprehension.
The younger the user it seemed the higher the confidence in their writing skills, and the less the fear of prejudice, which is something to consider, but all shared an acceptance that what they'd written wouldn't be good enough.
One thing they all mentioned was they'd probably want to be able to show someone what they'd written before sending it.
Fear of a blank page
The consensus was that giving choices represented a far better experience. Instead of typing answers they wanted to tick boxes and select from options. This freed them from any potential to make a mistake.
Interestingly once our users had selected an initial tick box, and then had to write why they'd made that choice, their anxiety was noticeably diminished. Their confidence levels had been increased with trust they had at least answered part of the question without risk of error.
Interestingly, this trust only seemed to work on a question by question basis. Another unconnected white space further along risked another drop out.
English is a closed book
As I've met more deaf people I've realised that BSL can't be simplified as English made into signs, it's a completely different language in its own right
While a genuinely interactive BSL version may be a long way of, explaining the more difficult concepts, or even just explaining that we really don't care about correct spelling may go a long way. We're already working on a different set of questions we could present to deaf users which might be able to take the majority of them through the service using check boxes and requiring the minimum of writing. This is something we're looking forward to taking back into research sessions.
The session was challenging, and a sobering reminder that while we've come a long way, there's an infinite variety of conditions and needs to be found. 'Done' can only ever be an abstract concept. But, to keep things in perspective, we found that the needs of everyone we met were far better served by a digital service than a telephone service. So there are some reasons to be cheerful. While we'll keep improving the service for all users it's great to see the difference the digital service is making to deaf people.