I'm writing this blog on my phone - these days, that's not unusual. Most people are familiar with how the internet and the development of smartphones have revolutionised how we live our lives and the way we work.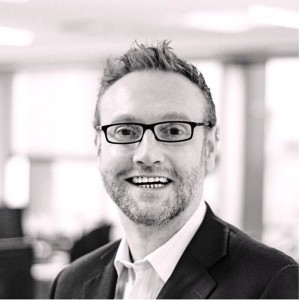 And DWP is no different - many customers now prefer to go online to use our services rather than call us or fill in paper forms, and there's lots going on within the department to make that a reality.
One channel that people are likely to make even greater use of is social media. And there's an acceptance across Whitehall that social media should be a channel supporting all our digital services: signposting to and gathering feedback on them and providing the greater responsiveness that citizens increasingly expect from government.
Our social media blueprint
That's why DWP's Business Transformation Group (BTG) set up our team to develop our social media presence. We're working out how the Department can use social media as an effective and efficient channel to help deliver DWP's vision for 2020. As a first step we've published our social media blueprint setting out how we can harness the transformational opportunities that social media offers, from consulting on policy to providing more responsive customer service.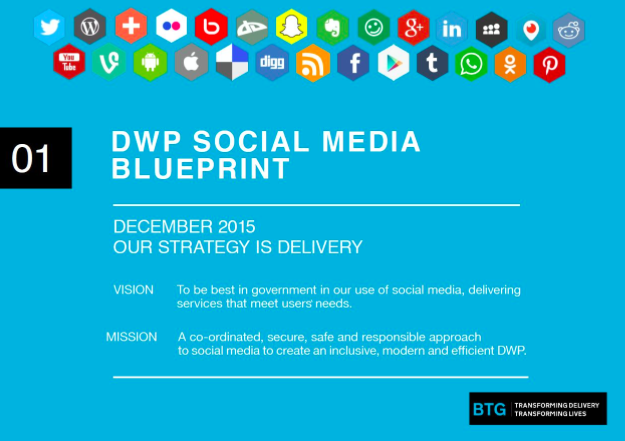 A more social, human approach
Many DWP colleagues have already embraced social media, setting up departmental accounts, especially on Twitter. The blueprint explains how we can build on this, moving from 'accounts' that largely broadcast to a much more social (and human) approach. We've already made a good start in Jobcentre Plus in Greater Manchester and Cheshire (GMCC) providing advice and support that jobseekers can access at a time convenient to them. The GMCC team have worked hard to develop an online identity and tone of voice that shows them as real people joining in a conversation, not as faceless civil servants. @hammondazizsays makes the case for civil servants being more 'social' in this interesting and informative blog.
But there's more to do in the customer service space and we think that this is where we can make a real difference to our customers in a way that will also help us make savings by reducing avoidable contact. We're working with the digital comms experts in DWP's Communications Directorate to explore how we can use social in two-way conversations to deliver more responsive customer service. Other departments are already looking at this including HMRC (@HMRCCustomers) and there's some good work going on in DWP with accounts in Child Maintenance (@CMOptions) and State Pension  (@ClaimPensionDWP) engaging more on social media with customers. Our next step is to pilot a new customer service channel using social media to handle common enquiries, we'll test and learn and improve based on what we find out.
Developing social media capability
To do all this we're working hard to develop the capability of our colleagues so that they have the skills to use social media well. Building on this excellent blog from our own @RichesDaniel extolling the benefits of social media, we've developed our 'Come Fly with Twitter' infographic to encourage colleagues to try social media, find out how we are transforming and practise the digital skills they need to future proof their careers.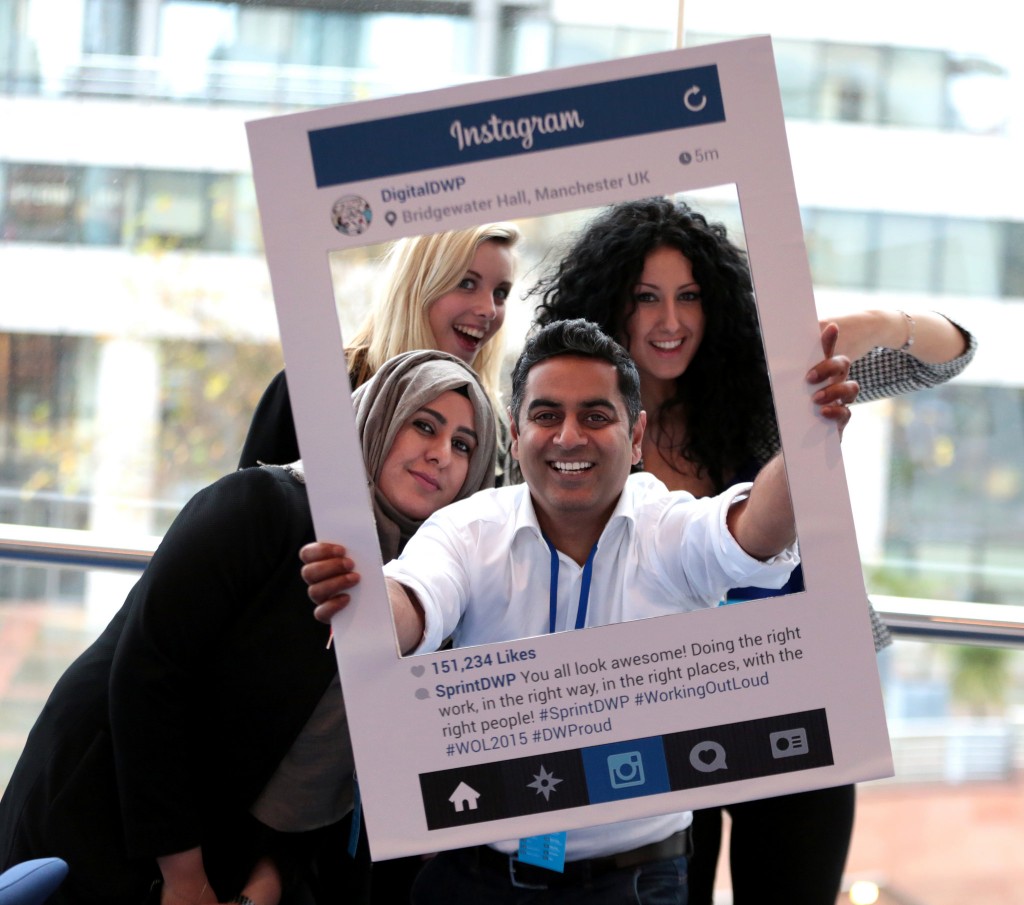 As part of Social Media Week we Periscoped sessions with key speakers sharing their expertise (thanks @timolloyd, @GeorgieC) and ran sessions at Sprint DWP to demonstrate how social media can help us work out loud.
Secure, safe and responsible
But we need to ensure we unlock these transformational opportunities in a coordinated, secure, safe and responsible way - these are also themes in the blueprint. We've updated the social media guidance for colleagues, linking this to the Civil Service Social Media Guidance and the Civil Service Code and introduced a more coordinated approach to setting up, maintaining and running accounts. This might sound a bit command and control and not really in the unfettered spirit of social media. As a department delivering billions in benefits payments every year and holding a vast amount of customers' personal data, security has to remain a priority.
Social Media is not a fad, it's not going to go away - new platforms are no doubt being developed in the bedrooms of genius teenage coders as you read this. If we can become that credible, authentic, human voice on social media, recognised by customers as a trusted source of information, we can help deliver our ambition of a modern, efficient, inclusive DWP fit for the 21st century.