It has been about 6 months since we started to build the Business Design community at DWP. Some of our community are already finding that being able to operate in these roles is a great way  to develop their career.  When we set up our Business Transformation group we recognised that DWP needed to build the great digital services that customers expect from government, but equally that we had to make a step change in the way the core of the business operates. Creating a joined-up business design is a critical part of building a more modern and efficient DWP, with customers at the heart of our thinking.
We brought together the Business Design community to join up across the delivery programmes within the department, and this team has been co-creating the blueprint for the department.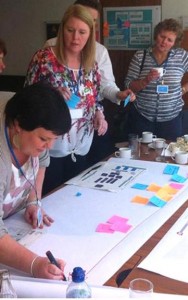 To get the design work moving quickly, we wanted to follow a recognised approach rather than re-invent any wheels. We supplemented the established DWP teams with a small number of experienced business designers from outside the department. In the longer term we want to build a sustainable function within the department, so we will be transferring knowledge and upskilling our teams.
The skills we need fall into two broad areas:
Consultancy skills – building our skills in understanding problems and influencing stakeholders like our in-flight change programmes.
Technical design skills – building a "tool bag" of techniques to design the business.
We're working on both areas but for this blog wanted to focus on some useful technical design skills for the designers/architects operating at various different levels in DWP.  We selected the following tools to explore in our Business Design Academy:
One-Page Strategy – seeking the answers to a series of key questions and presenting it on one page.
Andrew Campbell's "9 tests" of Organisation Design – expose unavoidable trade-offs and assess the advantages and disadvantages of different designs.
Organisation charting techniques - describing the relationships between different types of organisation units.
Business Capability mapping – showing  individual business capabilities in relationship to each other, enabling us to see the larger context and align across our people, technology and processes.
Design Principles - building a link from our  business strategy into 'rules' that will guide design decisions.  For DWP our design principles will follow our Guiding Principles for business transformation.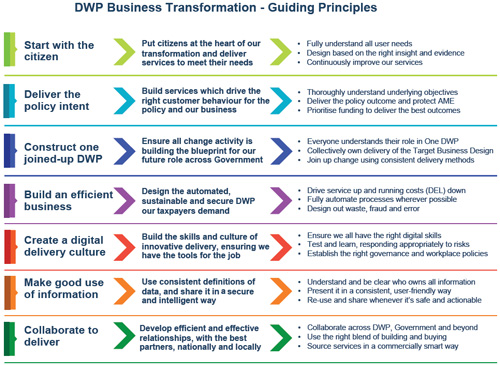 Customer Segmentation Models – dividing customers into groups based into distinct needs so that they can be treated in similar ways.
We've had lots of interest in building our tools and techniques for business design, and some of our community have already shown that being able to operate in these roles is emerging as a great way to develop their career.
Follow Andrew on Twitter and don't forget to sign up for email alerts.