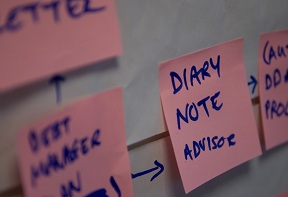 Hi, I'm Kate Bruckshaw and I'm the Product Owner of a digital project to improve the way that people repay money to DWP. I graduated from the Digital Academy in July 2014.
We're transforming the way we operate to create automated, efficient services designed around understanding service user needs. As Andrew Besford recently wrote DWP is a huge multi-channel business, where customers (our users) depend on us for information and support. A big part of the work we're doing to reduce fraud and error, involves collecting overpaid benefits. In 2013/14, we recovered nearly £1 billion but there's more to do to increase this and to make it easy for people to pay back money.
Managing the recovery of overpayments can be complex. We're dealing in debt owed to government and with people in diverse situations, sometimes with very different needs. We want to make it easier for users to deal with us so they don't need to phone or post stuff and can just go online to complete a repayment in a way that really is simple, clear and fast.
We also want a service that works for everyone but we know how important it is to start with something that's viable. Eric Ries promoted this as the Minimal Viable Product (MVP) and it translates well as a question: 'what's the simplest thing that could possibly (probably) work? This isn't about spending months setting-up a big IT project, instead it's about making things happen by doing things differently. Roo Reynolds' blog post is still one of the best reads on how we now create new services.
Getting to alpha
For the last few weeks, we've been working out what might be possible and what we can do quickly, knowing that we can continue to improve it (it's an agile project and we're iterating). There's no better way to do this than by building something and sharing it with users and that's what we've done, starting with paper prototypes and progressing to a 'click through' in PowerPoint before we code.
This kind of approach doesn't aim for perfect design but we've found it's hugely powerful: being able to go through a user journey, show someone an interface and listen to their experience has been the best way to understand what people really think of your build. Hearing someone tell you it's 'sweet' is even better.
We're aiming to complete our alpha very soon and to begin testing a fully working prototype as a beta. And that's where you get a real sense of how transformation is starting to change DWP and of the power of collaboration.
Working in the Transformation Hub
Our project is running as part of a community, alongside other teams doing other digital projects and a rapidly increasing number of seriously talented people now based in our Leeds Transformation Hub. Things happen here. We can grab User Researchers for a pop-up session, get @BenHolliday to test out our prototype or take ten minutes with @mortimer_leigh to learn from the experience of launching our Carers Allowance Digital Service.
What's more, we've been working across government to look at re-using existing components (H/T to Ollie McGuire and his team in HMRC for sharing their source code with us), using new tools (30 minutes on a Google hangout instead of hours travelling by train) and finding out how doing things differently translates into testing new approaches with our delivery partners in commercial and technology teams.
The service we're building will be simpler, clearer and faster for people to use and we'll have made it in a way that's simple, clear and fast for the team.