This year, we created DWP Digital by bringing together digital, data and technology expertise.
Our Digital business is focused on designing and delivering integrated products and running them as 24x7 services. Everything we do is measured by the difference we're making to:
Improving outcomes for society
Making DWP more efficient and effective
Re-imagining customer experiences
We plan to deliver the vision set out in the Government Transformation Strategy so that our services reflect the needs of the people of the UK by enabling government to work in a modern way.
As the largest public service department, we welcome the focus on data, driving improvements deep into Operations, a workplace for colleagues which enables collaboration, capability and better services.
Our Digital transformation
We are transforming how we work, how we organise ourselves and how we serve our citizens. Our strategy is to deliver at pace and scale; to deliver meaningful change to the people who need it most, faster and more efficiently.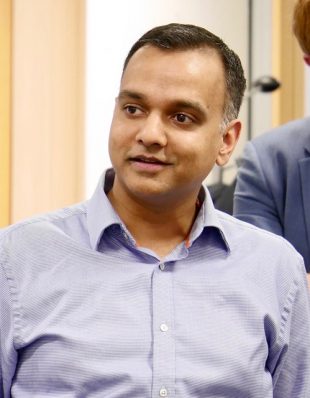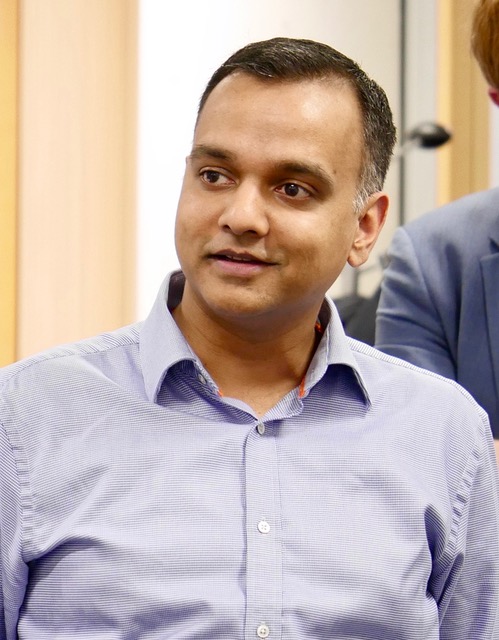 We are re-imagining the future while we continue to run the current products and services.
Our significant size and scale is both an opportunity and a challenge. We run one of the most complex IT estates in Western Europe. We are progressively refreshing the ageing infrastructure, while staying focused on the stability and resilience of our Operations, because service hours lost have a direct impact on colleagues and the citizens we serve.
While it is relatively easy to make rapid progress with services that involve online claiming, the biggest improvements in service and efficiency come from driving all the way through to the processing at the back of our services. This is complex and needs careful choreography with our current services to ensure stability and security.
To achieve this, we've been continuing to release services into public beta, such as the award-winning Check your State Pension service that has had over 2.3 million pensions forecasts viewed since August 2016. More recently the Apply for a Budgeting Loan service reached public beta, and more than 50,000 claims have been made, more than 70% of them online. Testing digital services with a small but growing number of users helps us fix issues and meet user needs.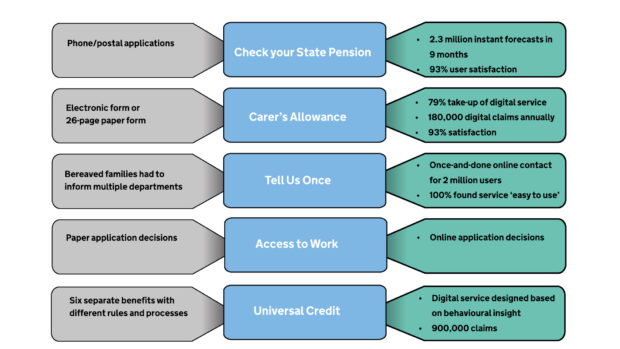 We continue to make our live services better. Carers' Allowance now receives around 5,000 claims a week and has a customer satisfaction rate of over 90%. We're also transforming shared platforms to enable over 90,000 users from government departments and local authorities to carry out over 16 million transactions every day. Another example is how we are overhauling our infrastructure, moving services to private and public cloud.
Building an organisation around products and services
We're organising ourselves to put products and services, built around the needs of users, at the heart of our delivery.
This means multi-disciplinary teams working together to build end-to-end service design, delivering services that are secure and scaleable.
We plan to grow our design practices and engineering discipline as we transform how we design and deliver products and services alongside the many other parts of our Digital business. We need to grow design practices and engineering discipline. At its core we value the principles in the Agile Manifesto:
1. Individuals and interactions over processes and tools
2. Working software over comprehensive documentation
3. Customer collaboration over contract negotiation
4. Responding to change over following a plan
The role of the product owner is an important one in this model, and I'm pleased that we brought product managers from across government together in January, to support building this community.
Data drives our business
Data is the thing that stitches our products and services together. Data binds our products and services, our infrastructure and our relationship with citizens and other departments.
We are moving from reactively analysing and using internal and government data, to real-time visualisation of data, use of external data and implementing machine learning algorithms. We are adopting modern approaches to data science, as expert colleagues pursue probabilism and determinism to address what we can or cannot know about something, as well as address what exists.
We know that good data science needs to combine with good design skills to hide all that complexity with a simple set of insights or options for the end user. We take the science of data seriously. It's a cross-industry challenge and success will only come from working together on this.
Capability and culture
We are focused on building teams which know their craft on a scale larger than other government departments and FTSE100 companies. Breadth of expertise is nice but depth and passion create a competitive edge.
The way we work is as vital as the services we run. We need to foster a culture of collaboration and inclusiveness, where teams collaborate across boundaries, iterate and show progress every week, are curious and supportive. We want to be leaders of our profession and we believe the following traits are essential:
1. Be inspiring about our work and its future, and confident in our engagement
2. Shift culture to one based on outputs rather than inputs
3. Empower delivery teams by removing layers, inefficient processes and hurdles
4. Learn from others and welcome challenge to change for the better
5. Burning passion for user needs, excellence and the potential of innovation
6. Give back to communities, society and our professions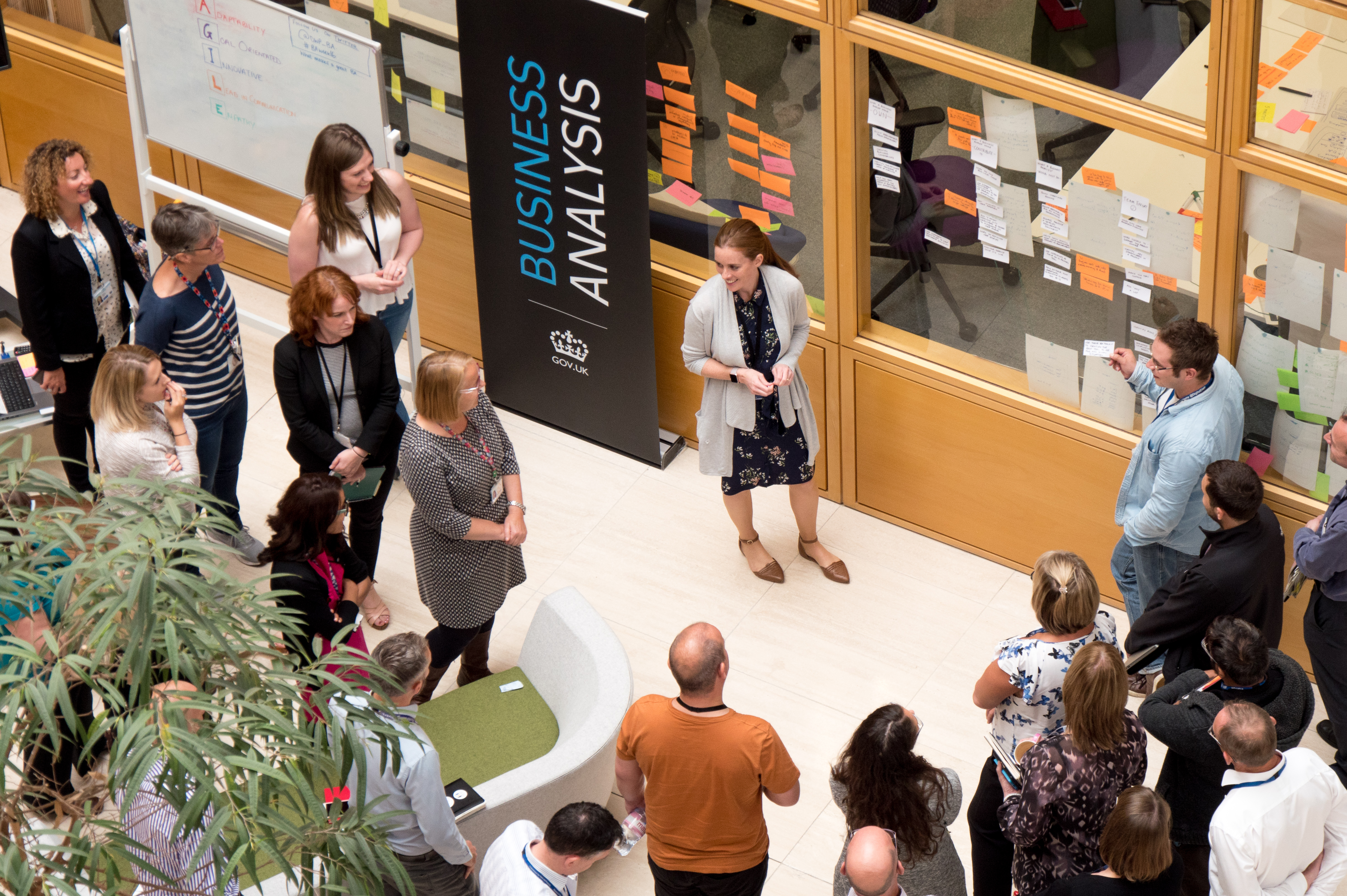 Colleagues across DWP Digital are reflecting on our culture so that we can deliver business outcomes.
As champion for gender diversity in DWP, I'm also determined that we encourage more women into Digital roles, and foster equality in the workplace.
We are attracting talent on a massive scale and creating a high-performance workplace for colleagues who aspire to be the best is essential.
Building relationships
Our approach is changing our relationship with colleagues across the department, across government, and with vendor partners.
We collaborate by embedding colleagues at the heart of policy-making and running Operations to deliver services for 22m citizens. Multi-disciplinary digital teams are pursuing business outcomes which is replacing a technology delivery that's driven by business requirements. This is a new way of working for colleagues for all industries but DWP is now at the point of breaking through to make this the norm.
We're already working with NHS Digital on secure transfer of data between us to deliver better services for citizens as we process Fit Notes efficiently. We have a long-standing relationship with HMRC, using data to help citizens check their state pension, understand incomes to reduce fraud, calculate child maintenance payments, and ensure users are receiving the Universal Credit they are entitled to.
We work with start-ups, scale-ups and large established industry leaders. We have replaced exclusive long-term contracts with flexible customer choice. We are proactively focusing on improving performance and innovating. This means we are experiencing growing partnerships as we continue to invest in buying products and services.
Transforming together
We are excited about our future and have many opportunities in front of us. We intend to pick a few as we passionately believe that focus helps us achieve outcomes we are proud of.
Success is easy to measure. Many industry awards have recognized our achievements. The distance between our past and our present is the reason why other governments, Fortune100 and FTSE100 leaders come knocking to learn from us.
Colleagues across DWP Digital have delivered the exceptional combination of 1) sustained double digit percentage point service performance improvement, 2) saving over 10%, 3) accelerating product development, 4) securing our information in the face of a growing threat profile, 5) improving engagement by 9 percentage points while our employee base changed by over 20%, and 6) delivering services to DWP colleagues with an NPS rating of over +35.
We are more interested in what we are about to do than what we have achieved. We'll continue to tell our story and learn from the best.
Our optimism reflects our ability to achieve. Simplicity is our design goal. Our strategy to deliver is borne out of our responsibility to change futures for 22m people.
The greater danger for most of us isn't that our aim is too high and we miss it, but that it is too low and we reach it.