Product People North is a community of people from across government involved in product design for digital services. Sinéad and Lesley from DWP Digital, who are part of our Digital Voices skills-building programme for women did a joint presentation at the event. This is why they wanted to share the story of their team's work.
Sinéad Krzyzyk, product manager: "It's good to hear what other teams are doing"
I'm a product manager for two elements of the online Child Maintenance Service. I gave a talk at Product People North with my colleague Lesley, about the work that our team has done preparing for private beta for the Apply for help arranging Child Maintenance service.
I really enjoy events like Product People North, especially hearing from people in different government departments. Although our services are unique, there are always common problems. It's good to hear what other teams are doing and learn what's worked well.
I'm fairly comfortable presenting in front of a crowd, and I've given a couple of talks before in other roles. However, I've only been working at DWP Digital for 5 months so I was a bit worried about this one, since my knowledge of the full service journey is still developing.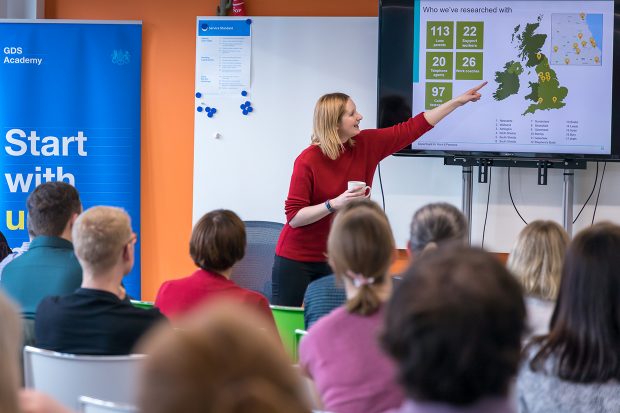 "I'm saying yes to every opportunity"
I was nervous that we wouldn't do our service justice and highlight the great work the team has been doing. I was also worried that I wouldn't know the answers to all the questions that were asked after our talk. Luckily, everyone was really kind and the talk and the Q&A went really well.
I'm enjoying being part of Digital Voices so far. It's only been a couple of months since I started but already I've taken part in a video, run a stall at an event, and now I've given this talk at Product People North.
Being part of the programme is encouraging me to say yes to every opportunity that comes my way.
Lesley Thompson, senior business analyst: "I wouldn't have done this before Digital Voices"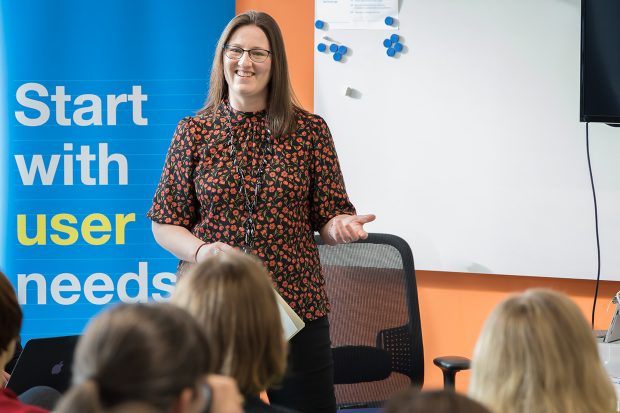 Presenting at an event like Product People North is something I wouldn't have done before being part of Digital Voices.
My line manager Fay Cooper encouraged Sinéad and I to present our story at the event. Initially my first reaction was: "Absolutely not, I'm not ready!"
But we gathered our thoughts and worked together on what we were going to say and how we were going to tell our story.
I recently joined Twitter and in order to get over the apprehension of doing the presentation. I posted a question to say I was feeling nervous about it and asking for advice.
I had a lot of lovely responses on how to calm the nerves, so I put those into practice on the day.
"I really enjoyed it"
Product People North was a great opportunity to put ourselves out there. It got me out of my comfort zone and although it felt a bit like diving in at the deep end, the event's theme of 'Children and Early Years' really fitted with our work.
I was nervous in the run-up to the talk, but once I got into the swing of it, I really enjoyed doing it. I kept in mind that we were presenting to a friendly audience and it was good having Sinéad up there with me too.
I'm pleased with how it went. We talked about the team's work on the application service and the design challenges we've faced.
In the Q&A afterwards, people were really interested in what we were saying and how they could take those lessons forward in their own projects.
Doing the presentation really showed me why I applied to Digital Voices and why it's so important to me. It made me push myself and learn new skills.
My next steps are to do some job shadowing, go to senior leadership meetings with my Digital Voices mentor, to write another blogpost and do more filming.
I'm keen to see where this journey takes me!