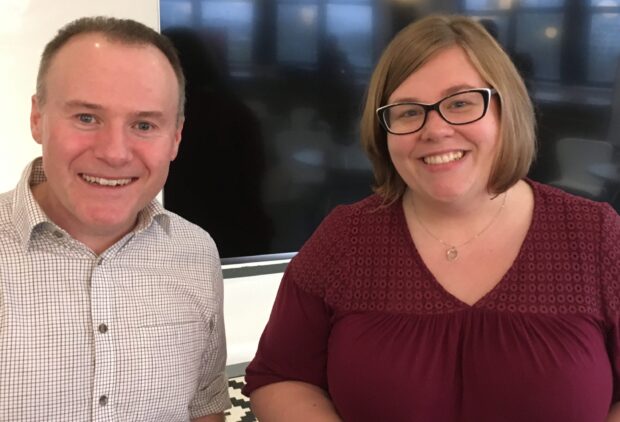 Working in the Civil Service has its challenges, and one of them is the sheer size of the organisation and the ability to share best practice widely.
As 'product people' working in DWP Digital, it's important for us to understand more about the experiences of our users. So DWP's Debbie Blanchard, HMRC's Nick Whittaker and I, started Product People North last year as a way to bring a community of people together who are involved in, and interested in, agile project management.
Held each quarter at the GDS Academy in central Leeds, our meet-ups attract people from a range of organisations. We work on services such as pensions, payments, and people, so it's important that we have a better understanding of the issues people using these services might face.
The format is simple: product owners and managers get together to discuss themes and issues, particularly around agile ways of working. We had previously worried about conversations running dry, but this hasn't been the case so far, proof that creating meet-ups like Product People North are an opportunity to unlock the experiences and views people are willing to share with friends and colleagues.
Theming our meet-ups
Looking to introduce a single theme per event, we thought that death, and the services we provide to family members when someone dies, would be a difficult but interesting topic.
Our first speaker, from the Marine Management Organisation, covered the topic of burial at sea. The talk was symptomatic of the whole day: fascinating insights, unique perspectives, and a load of "Who knew…?" reactions from the audience.
It was a real eye-opener into a topic that few of us really think about and hardly ever discuss. It gave us a good insight into how niche issues can affect our customers, and how such sensitive services are managed.
In a digital world, funerals are one area where services are still handled face to face as families make important and extremely emotional decisions. From how to address the dead, to how to operate an iPad in a mortuary, every touchpoint has to be carefully and sensitively considered. Liam Cross, Tom Walker and Helen Lawson from Co-operative Funerals explained these processes in detail, maintaining respect for the bereaved and their loved ones at all times.
We also covered DWP's 'Tell us about a death' service, which supersedes the old system of needing to tell each government department separately. DWP runs the service on behalf of partner public sector organisations, ensuring that informing the government about a death can be now done in a single and effective transaction at a time when people have their minds on other things.
It was interesting to spend the day hearing how services are improving to better support our customers at every stage of life.
Take part
The career paths for digital specialists in areas such as service design will really help our service users,. Our next Product People North will take place on Friday 1 November at the GDS Academy. This time we'll be discussing birth and early years.
If you'd like to take part you can register to attend, or if you're interested in speaking you can email us. Come and meet likeminded people, gain new knowledge, and learn from peers. I'll look forward to seeing you there!

We're looking for people with tech skills to work with us. Have a look at our careers site to find out more.